Since 2017, two major violent conflicts have been ongoing in Cameroon. The 'Anglophone Crisis', a conflict between the government and separatists from the English-speaking minority population, has resulted in over 6,000 deaths and the displacement of 700,000 people across the region. According to the United Nations, of the 4 million people currently living in the Anglophone regions, 2.2 million need humanitarian support. In addition to this, there is a second conflict in the north of the country, where Boko Haram, a militant Islamist group, has killed over 3,000 people and displaced thousands more.
In 2021, International Medical Corps (IMC) began operating in the Northwest region of Cameroon, which has suffered from internal armed conflict. Tens of thousands of people have been internally displaced and forced to live in crowded, unhealthy, and unsafe conditions. Elderly people, women who are pregnant or with new born babies, young girls, and children under the age of five are especially vulnerable in these conditions.
Commonwealth Alumnus Dr Lemonge Norbert Nkapleweh is the Emergency Health and Nutrition Project Manager for IMC which is funded by USAID and based in the Northwest region. He oversees a team of doctors, nurses, and other healthcare professionals to provide urgent free healthcare and nutrition services to internally displaced people in the region and Nigerian refugees who have been forced to flee their country because of ongoing tribal tensions and the conflict between Boko Haram and government forces.
Reaching the people most at risk
Conflict has severely weakened health systems in the country and, with so many people displaced, access to healthcare and other essential services is increasingly difficult. Preventing maternal morbidity and mortality, deaths amongst children under five, and severe malnutrition, as well as other common and life-threatening diseases, including malaria and diarrhoea, requires urgent and emergency healthcare, and humanitarian aid.
"You have a very huge health gap. People have to walk tens to hundreds of kilometres through hills, valleys and rivers sometimes to get to health services. And they get there with several complications. Our role is to ensure that they are able to receive these health services for free, knowing that they are economically down because of the crisis."
Overcoming communication challenges
Lemonge is responsible for coordinating healthcare delivery in four of the seven divisions in Cameroon, which spans five health districts and includes nine health centres in the region. To deliver the project, he works with a range of stakeholders, including healthcare workers, medical suppliers, nutritionists, and community leaders.
Due to the conflict situation, implementing a healthcare strategy has been challenging, and Lemonge has had to think of innovative ways to reach communities and those most in need.
"You are never really entirely prepared for these kinds of challenges. You get to meet all kinds of challenges in the field. There's a lot of improvisation. I have to improvise in so many different situations. I need to be creative and I need to adapt local solutions to local problems."
In response to the logistical challenges created by the conflict, Lemonge has developed an innovative approach to communication.  Monitoring project delivery at different field sites in the region is an essential element of Lemonge's role and he has gathered regular reports to ensure sites are fully equipped with medical supplies and resourced with adequate healthcare workers to support patients. However, given the severity of the conflict in some locations and the threat to life, many telecoms companies are unable to maintain telephone and internet networks or carry out repairs to damaged infrastructure. As such, some areas are completely cut-off from outside contact.
To tackle this issue, Lemonge recruited a network of motorcycle riders tasked with visiting different field sites across the region to collect reports from staff and gather additional photos and scans of documents. This has enabled Lemonge to stay connected with healthcare workers and monitor healthcare delivery at a distance, whilst also responding to staff needs.
Lemonge continues to negotiate with telecoms companies about provisions that can be made to support emergency healthcare communications in the region and in one case successfully petitioned for an antenna to be repaired to enable communication between a field site and local hospital to facilitate access to medical services.
"Luckily enough, in one of the communities, the agency was able to repair an antenna there and we were able to bring down the curve for morbidity and mortality a lot just based on that."
An efficient solution to staff shortages
Owing to a limited number of trained healthcare workers who can be deployed across the region, Lemonge has also had to think creatively about how to staff the project. One component has been the introduction of integrated community case management (ICCM) to manage childhood illnesses. This involves training community healthcare workers in the field to diagnose and treat non-complicated diseases and refer complicated cases for hospital treatment.
Lemonge used his skills as a doctor and clinician to implement ICCM, and provided free training for community healthcare workers, following World Health Organization (WHO) protocol, to diagnose and treat malaria, upper respiratory tract infections, and diarrhoea amongst other common diseases.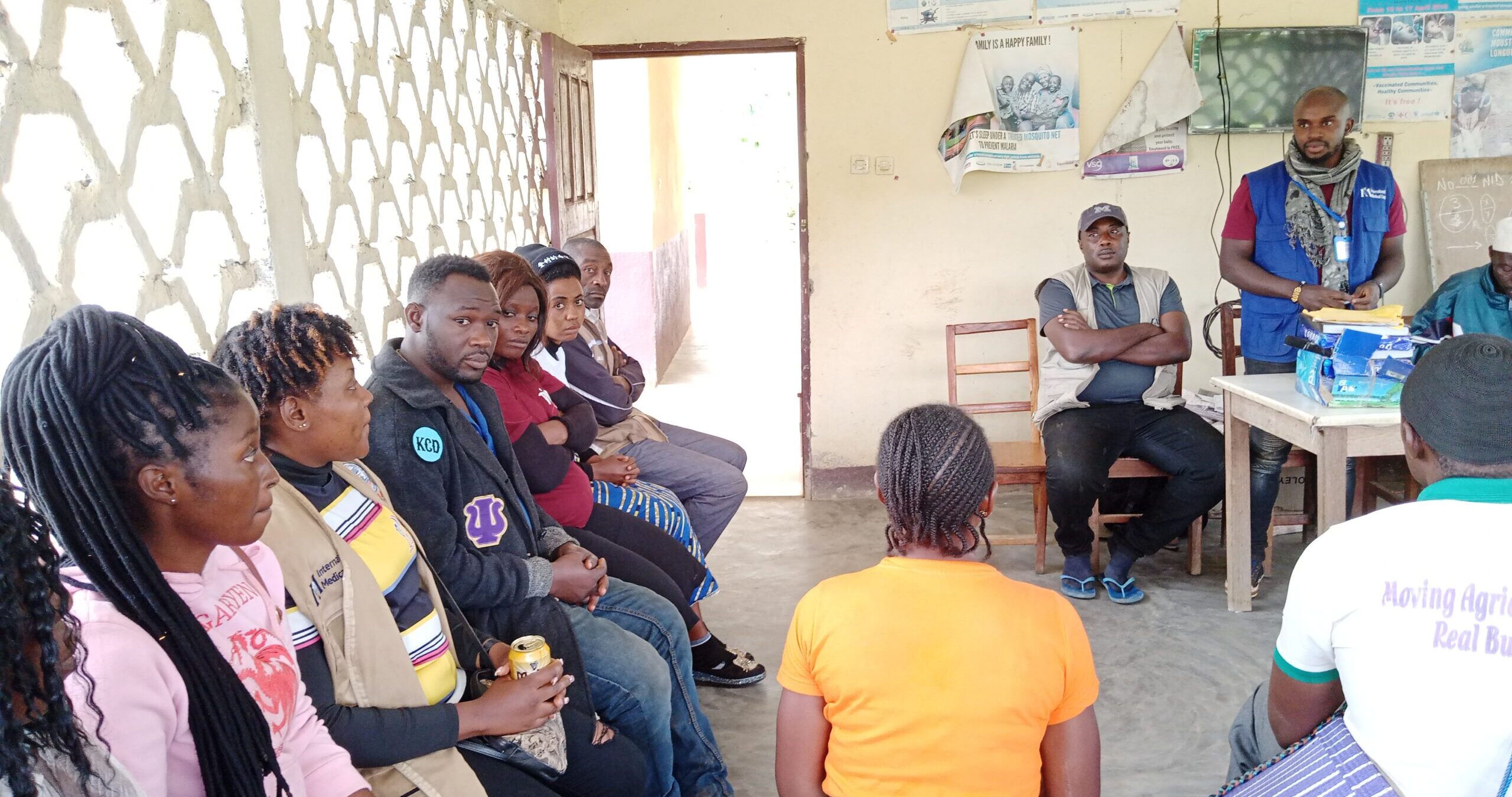 "Through this approach, alone, run for just four months, over 3,000 children were treated for malaria in the community."
The community healthcare workers have also helped to triage incoming cases effectively, preventing people with non-urgent and non-emergency healthcare from travelling to already under-resourced hospitals for treatment. This has reduced the burden on healthcare facilities more generally.
Negotiating the political climate
Maintaining political sensitivity and stakeholder engagement is critical to Lemonge's work. Typically, international humanitarian organisations engage primarily with government and ministry level officials to agree services and gain authorisation to deliver projects in country. In Cameroon, the political landscape demands a more nuanced approach because the country is divided between secessionists who want to create their own country, Ambazonia, and the existing government authorities under the la République du Cameroun.
This has required Lemonge to work with existing government stakeholders, in order to reach communities under their jurisdiction, and negotiate with non-state armed groups to support communities in areas they control.
"Coming in as a neutral organisation, negotiating with both parties, it's very challenging, but you cannot do without. We need to make sure they understand our purpose and objective to provide health services for free to people who are either identified as Ambazonians or as people of la République du Cameroun. It's a quite challenging situation to negotiate your way between those two stakeholders."
Gaining access to communities to deliver healthcare services requires Lemonge to secure permissions well in advance of every visit to and from the field. This can cause significant delays in the delivery of essential medical supplies and care to patients. It also means that if a patient requires emergency healthcare that cannot be provided by the community health workers, they may not receive this in time.
"Managing these stakeholders in terms of gaining access to the field has not always been very easy. And though international humanitarian laws are very clear, they're not always respected. And there's nothing much we can do as humanitarians apart from just to cry out."
At the regional level, Lemonge works closely with the governor's office, which controls the military force in the region, to ensure they are briefed on the work and movement of the healthcare workers. He also liaises with existing regional healthcare providers, including the district medical officer and health officials, as well as other international non-governmental organisations (INGOs) providing services in the region. This ensures that the different groups are collaborating and coordinating efforts in unison to avoid duplication and ensure a better coverage of services.
"The stakeholder management and collaboration and coordination is very vital. And as a project manager, I was mostly responsible for that activity, ensuring that all stakeholders are very well informed and collaborating with us on our intentions and our objectives."
Lemonge feels that being Cameroonian has been an important factor in his ability to work with the different stakeholders. His understanding of the conflict and how it is perceived and affects citizens has enabled him to approach communications sensitively and ensure the safety of his team.
"When you're from the region, you tend to have access to certain areas easier. And some of them are intolerant to those who are French-speaking. For example, if you come to their checkpoint and you're speaking French, you could lose your life just for that. Of course, being a national, that gave me access in terms of passing these checkpoints and going to provide the health services in those interior villages."
Improving public health messaging
As well as providing urgent healthcare, the project also seeks to implement preventative measures that support communities and reduce the burden on healthcare workers and facilities.
The community healthcare workers have supported the roll out of another important component of the project – health education. With a particular focus on malnutrition awareness and prevention, community healthcare workers have supported communities with detecting signs of malnutrition, maintaining good nutrition practices and rearing animals for nutrition and food security purposes.
The impact of this project extends beyond healthcare. As the examples of the repaired telecoms antenna and the motorcycle network show, both the healthcare workers and the local people benefitted from interventions which re-connected isolated communities. The project also provided employment opportunities for volunteers who trained as community healthcare workers and are now employed in other support positions.
Drawing on the scholarship experience
Lemonge says that nothing can prepare you for working in a conflict or humanitarian zone. However, he feels his MSc in Tropical Medicine and International Health at the London School of Hygiene and Tropical Medicine (LSHTM), funded by the Commonwealth Scholarship Commission (CSC), afforded him the opportunity to learn about health management and policy development, which are both integral to his current work.
In future, he hopes to use his skills and knowledge to manage the provision of healthcare in other challenging contexts, for example the Democratic Republic of Congo. Alongside his current work, Lemonge is completing a second Master's in Business Administration through a distance learning provider which he hopes will strengthen his existing skills in project coordination and leadership. Reflecting on his current position and the future ahead, he is thankful for the opportunity to study at LSHTM.
"I must say that it would have been completely impossible for me to ever have that dream of going to study in such a top-notch school, creating so many policies and innovative strategies when it comes to managing public health, at the London School of Hygiene and Tropical Medicine without the Commonwealth Scholarship."
Dr Lemonge Norbert Nkapleweh is a 2020 Commonwealth Scholar from Cameroon. He completed an MSc in Tropical Medicine and International Health at the London School of Hygiene and Tropical Medicine.