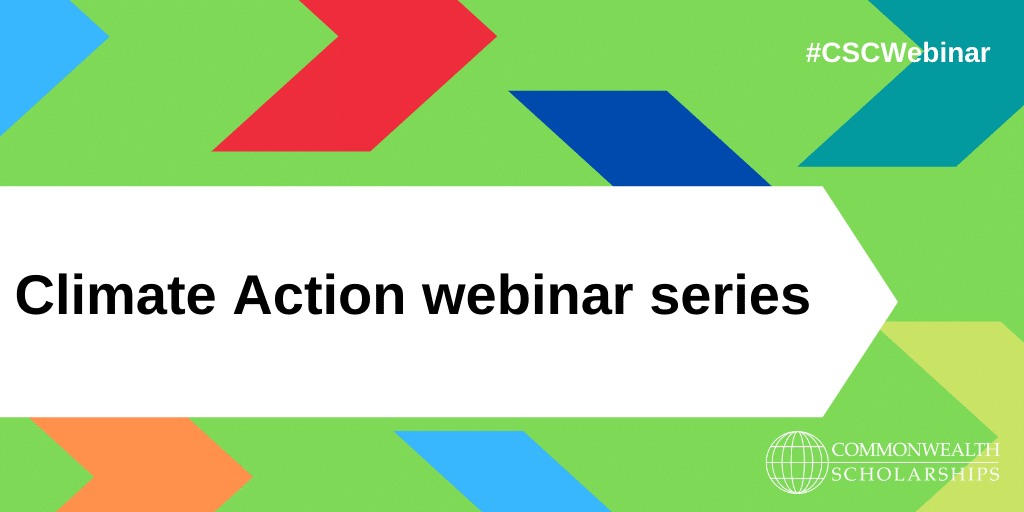 Climate Action webinar seriesWater and climate change: An integrated water resource management perspective
Duration: 10:30-11:30 (GMT); 16:00-17:00 (IST)
Discussing the impact of climate change on the water sector.
In this webinar, Commonwealth Alumnus Meesha Tandon will discuss the impacts of climate change on the water sector and the need to adapt to an Integrated Water Resource Management (IWRM), with a main focus on the Indian context.
The Global risks report (2021) by the World Economic Forum has identified 'water crises' as one of the top global risks by impact in 2020. According to estimates, floods and droughts have impacted 3 billion people worldwide over the last 2 decades (World Bank). According to Swiss Re Institute estimates, climate change could wipe up to 18% of the global GDP off the world economy by 2050 if the global temperature rise crosses the 3-degree mark. Not only this, climate change has already offset a significant amount of progress made on the Sustainable Development Goals in most countries.
And these consequences can worsen as the impact of climate change becomes more intense globally. Climate change is disrupting weather , disturbing hydrological cycles, increasing water scarcity, as well as flood situations, which are making it even more difficult for people globally to access safe drinking water. According to UNICEF, 74% of the natural disasters between 2001 and 2018 were related to water, and approximately 450 million children worldwide live in areas of high or extremely high water vulnerability. Hence, it becomes imperative to understand climate change and its impacts on the water sector. An Integrated Water Resource Management (IWRM) can provide a way forward.
The webinar will be delivered as a pre-recorded webinar. It will last for approximately one hour, including a Q&A session.
The CSC's Climate Action webinar series will provide a platform for Commonwealth Scholars and Alumni working and conducting research in areas related to climate change to present on their work and impact in this field to the CSC community.
You can watch previous webinars, delivered as part of the monthly Knowledge Hub webinar series, on the CSC's YouTube channel.
Meesha Tandon is an Architect Planner with specialisation in water resource management. Currently she works as an independent consultant in the urban, water, and climate change space and heads an NGO working on sustainable development and climate change. Through her NGO she is working towards awareness generation programs, short courses, and on ground activities towards sustainable development and climate change. She has also been a part of the Planners for Climate Action initiative, convened by UN Habitat, and has recently hosted Urban Thinkers Campus with leading international institutes through her NGO.
She has over 17 years of work experience in urban development, including Smart Cities Mission, climate change, Water Resource Management, sanitation, WASH, and other sectors, on projects supported by international funding agencies, state and local governments. Her expertise lies in policy planning, advocacy, capacity building, and working with vulnerable communities towards sustainable development. She has extensive experience in undertaking training and capacity building programs for government officials, vulnerable communities, and youth. She has been a finalist at the UK Alumni Awards (Social impact, India, 2018) and a finalist at the World Water Challenge (KIWW, 2018).
Meesha Tandon is a 2006 Shared Scholar from India. She completed her MSc in Catchment Dynamics & Management at the University of Leeds.