On 18 February 2023, Commonwealth Alumnus Dr Kagiso N Tlhabano-David delivered a one-day event to raise awareness of parasport. The event was held at the University of Botswana, Botswana. The activity promoted the 2022/23 ACEF theme, Sport for development.
The event aimed to address the challenges encountered by people with disabilities (PWDs) in accessing sport and seek ways to increase participation and representation at national and international level competitive sporting events, such as the Paralympics. To strengthen this objective, Dr Tlhabano-David engaged with renowned sport agencies in Botswana to foster longer-term engagements to promote Parasports. Collaborations with organisations targeted,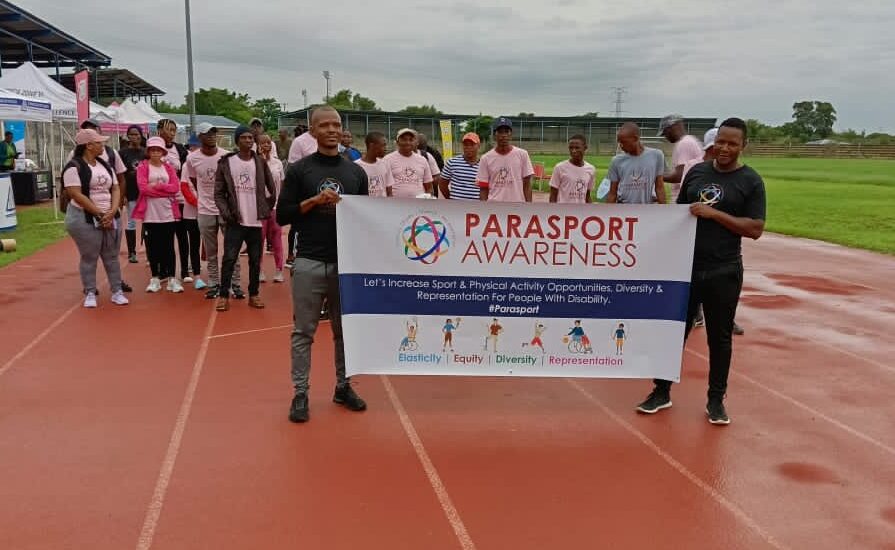 Parasport awareness walk in Botswana
Paralympics Association of Botswana, Botswana National Sport Council, Botswana National Olympics Committee, Botswana Association for the Disabled, University of Botswana Sports Science, and University of Botswana's Department of Sports and Recreation.
Over 120 participants attended the event including PWDs, delegates from the University of Botswana, former and current athletes, the Botswana Motor Vehicle Accident Fund and various sport associations.
Dr Kagiso N Tlhabano-David is a Counselling Psychologist with vast experience in Sport Psychology. Her clinical experience includes working for government and non-governmental mental health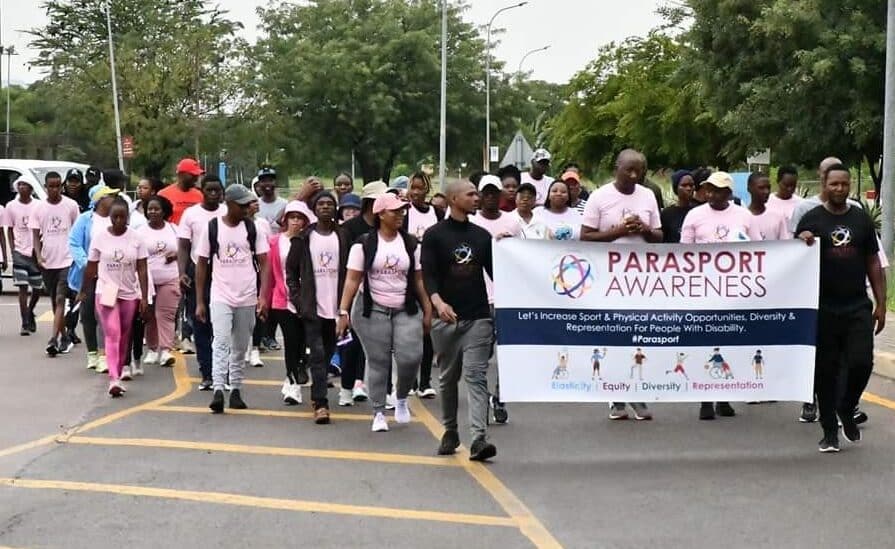 Participants including PWDs participated in the awareness event
services in Australia and Botswana. She works closely with student-athletes at the University of Botswana and Botswana's national sport teams, including athletes who participated at the recent 2022 Commonwealth Games.
The importance of sport for people with disabilities
The United Nations Development Programme (UNDP), estimates that approximately 4.5% of the population in Botswana live with a disability. Disability challenges in Botswana include lack of access to education, economic exclusion, and restricted access to information, transportation, and public spaces.
Sport and physical activity play a significant role in promoting individual health, wellbeing, and inclusion for athletes with and without disabilities. In Botswana, PWDs face distinct barriers to sport participation such as lack of knowledge of adapted sport, lack of social support, lack of access to training facilities, and lack of financial resources. This stresses the urgency to scale-up efforts to promote inclusive sport opportunities through parasports.
Parasports are sports played by people with any disability. Some parasports are forms of adapted physical activities from existing able-bodied sports, while others have been specifically created for PWDs and do not have an able-bodied equivalent. Parasport strengthens the Paralympic movement by providing tools and resources for grassroots participation, including promoting the benefits of sport to PWDs, creating a sense of community, and providing opportunities for PWDs to challenge themselves and increase self-confidence and empowerment.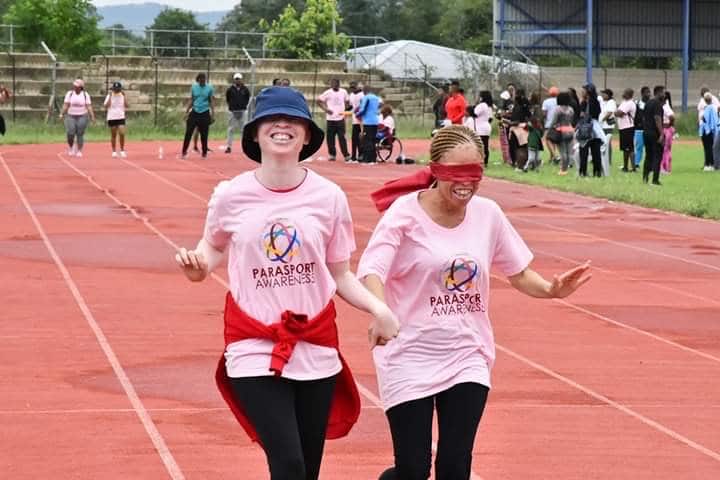 Guided 100 meters race to demonstrate adapted sport
Despite efforts in developing parasports, the number of athletes with disabilities participating in competitive sport is low compared to the athletes without disabilities. Therefore, collaborative efforts are needed to encourage PWDs to explore the holistic benefits of sport and access sporting opportunities that best suit their needs.
Using sport to reduce stigma and discrimination
In developing her activity, Dr Tlhabano-David sought to use sport as a catalyst to reduce stigma and discrimination associated with the disabled community. To achieve this, she collaborated with prominent leaders in the sport sector in Botswana to discuss ways to encourage PWDs to participate in national sport teams.
To strengthen her event and ensure it met audience needs, Dr Tlhabano-David conducted a pre-event survey to understand the level of awareness of Parasport amongst university students. The results revealed that 68% of respondents had a loved one with a disability, of which 57% were not physically active. These insights reiterated the importance of raising awareness of parasport. In the future steps will be taken to ensure that the survey is accessed by many outside the university population, providing useful insights to grow parasport.
Prior to the one-day event, Dr Tlhabano-David delivered a series of promotional activities, including a pre-activity radio and TV interviews to reach a wider audience.
Parasport Awareness Day event
The University of Botswana hosted the one-day event and activities included a Parasport awareness walk, speeches from athletes, and the opportunity to take part in adapted sport activities. The event brought together PWDs and people without disabilities to engage in activities together, share experiences, and promote inclusivity in sport. Activities were supported by a team of volunteer speakers and supporters, including fitness trainers, coaches, and athletes who shared their expertise and experiences.
The event started with a Parasport awareness walk around the University of Botswana campus. During the walk, PWDs, members of the university and delegations from the sport associations across Botswana highlighted the awareness theme through banners and music from a local choir. 
Dr Tlhabano-David delivered the welcome remarks. In her speech, she stressed the vital role of sport and its contributions towards the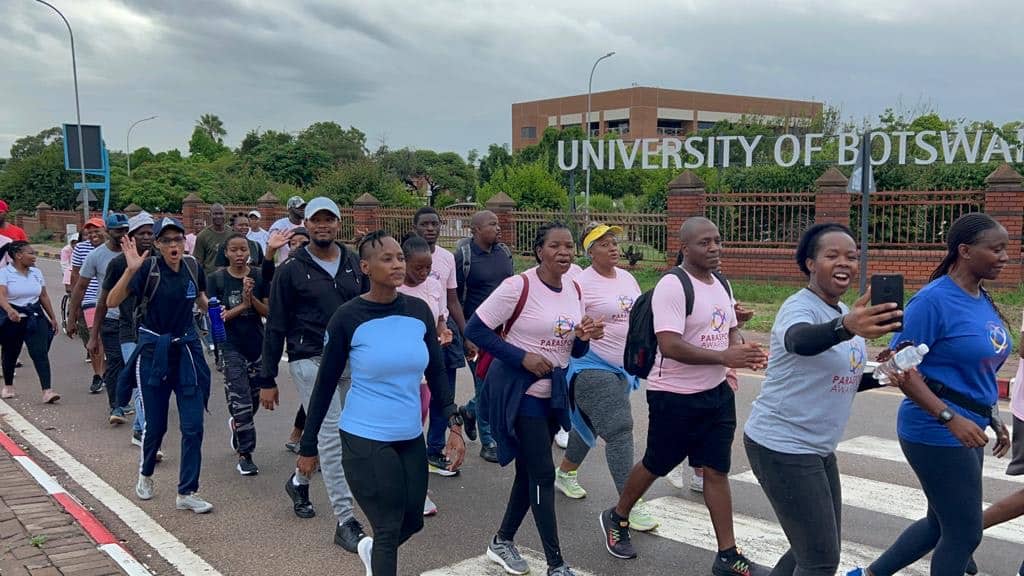 Parasport awareness walk around the University of Botswana campus
holistic development of PWDs. She reiterated the need for PWDs to pursue adapted sport opportunities and aim to participate in competitive games.
Following opening remarks, Onkabetse Nkobolo, a former athlete and Olympian, delivered a talk on the importance of adapted sport for PWDs. In his motivational speech, he encouraged PWDs to participate in sport and be physically active. Nkobolo stressed the detrimental impact of barriers and negative perceptions associated with PWDs in Bostwana and urged stakeholders and attendees to make provisions for PWDs in sporting activities to strengthen their physical and mental capacity.
Taking inspiration from Nkobolo's speech, attendees were then invited to take part in a range of adapted sporting activities, such as hand ball, boxing, and Zumba. The session was facilitated by Mr Lechedzani Luza, a certified boxing coach, Olympian and Commonwealth Games Federation Athletes Advisory Commission member, and Mr Matlhogonolo Mokgosi, a certified football coach, alongside other certified fitness instructors. For PWDs, this provided an opportunity to try out new sports and see how these can be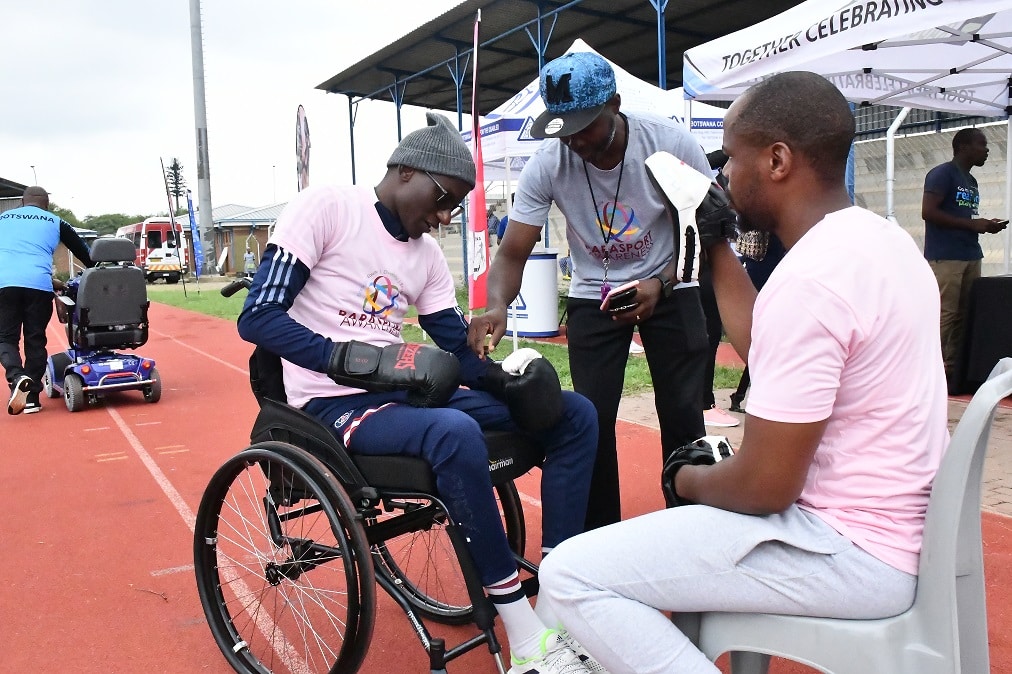 Boxing as an adapted sporting activity
adapted and made inclusive, and for those without disabilities, they gained personal experience of parasport.
Participants, especially PWDs felt encouraged to indulge in future adapted sport activities and pursue this with a passion. In sharing their experiences of the day, PWDs spoke of what it meant to them to have a taste of aerobics and zomba, and to play adapted sport alongside people without disabilities. Guests appreciated the opportunity the activity gave PWSs to play sport safely and expressed keen interest in collaborating to grow sport involvement for PWDs. The general community expressed appreciation for insights gained and the opportunity to take part. Dr Tlhabano-David has since received expressions of interest from several stakeholders interested in future collaborations including, University of Botswana, Disability Awareness Association and Botswana Judo Federation.
After the successful delivery of the awareness activity, Dr Tlhabano-David is inspired to further promote Parasport in Botswana. She is currently in the process of registering a Parasport Awareness Foundation and aims to hold the Parasport awareness day annually.
Event guests
With thanks to the following special guests:
Onkabetse Nkobolo, former 400m sprinter, 2018 Gold Coast Commonwealth Games 4 X 400m relay champion, and Rio 2016 Olympian
Mpho Pheto, Interim Vice President, Paralympics Association of Botswana (PASSOBO)
Lesley Baleseng, Publicity Officer, PASSABO
Ngwato Ilang , Secretary General, PASSOBO
Sekolo Tshepiso, Sign Language Interpreter, PASSOBO
France Mabiletsa, President, Botswana Olympians Association (BOA)
Tebogo Tshenyo, Board Member, Botswana National Sport Commission (BNSC)
Charity Moala, Human Capital Administrator, Motor Vehicle Accident Fund
Dr Comfort Mokgothu, Head of Department, University of Botswana Department of Sport Science
Oarabile Lechiile, Secretary General, Botswana Judo Federation
Taolo Tlouetsile, Secretary General, Botswana Boxing Association.
Dr Kagiso Tlhabano-David is a 2016 Commonwealth Scholar from Botswana. She obtained her PhD in Sports and Exercise Sciences (Sport Psychology focus) at Liverpool John Moores University.