The Commonwealth Scholarship Commission's 2020/21 Professional Fellowship Programme drew applications from mid-career professionals from low- and middle-income Commonwealth countries to spend between six weeks and three months at a UK Host organisation working in their sector on a programme of professional development.
2021 marks the 20th  anniversary of the Commonwealth Professional Fellowship programme and last week, CSC staff members held a virtual meeting with three of its newest members from Uganda: Scollah Kemigisa, Rachel Namiiro, and Hannah Kemiyondo. All three Fellows are coming to the end of their three-month placement with the University of Salford and Knowledge For Change, a UK charity that aims to improve the standard of healthcare and education provision for the poorest members of society in low- and middle-income countries. Scollah's placement was with the latter, focusing on sexual health whereas both Rachel and Hannah's placement was with the University of Salford, focusing on wound management. However, all three Professional Fellows worked together on specific projects under the supervision of Professor Louise Ackers, the host lead at the University of Salford.
Treatments and discoveries
The meeting began with a comprehensive presentation delivered by the Fellows, starting with Scollah, who outlined the context of Podiatry, a specialised care of the feet that involves the treatment and prevention of foot disorders including different types of wounds such as diabetic foot disorders.
During their time in a podiatry clinic, Hannah, Scollah, and Rachel learnt about the many aspects of Podiatry, a service and a specialism that does not yet exist in Uganda. Discussing traditional treatments in Uganda, Louise mentioned that sugar and honey were historically used to treat wounds in Uganda but acknowledged that today they are dismissed as "bush medicine" (although sugar paste is still used as a substance in wound treatment in the UK).
The Fellows shared some of their insights and discoveries while on their fellowship in the UK with the CSC team. This included that a podiatry clinic involves managing a diverse range of conditions, from fractures and sprains to nail disorders, diabetes, and arthritis. At the same time the Fellows acknowledged that they were surprised to learn that podiatry involves general neurological assessments to prevent complications.
During their fellowship, the Fellows also learnt how to sew with help from Louise, and applied this skill to develop and produce hygienic, sterile, and reusable alternatives to gowns and gauze to prevent infections. Developing this skill enabled the Fellows to produce other reusable medical items such as drapes, mops, and wipes, as sustainable and cost-effective alternatives for hospitals. Rachel showed the CSC team a sustainable mop that she designed, an alternative Fit for Purpose honey wound dressing.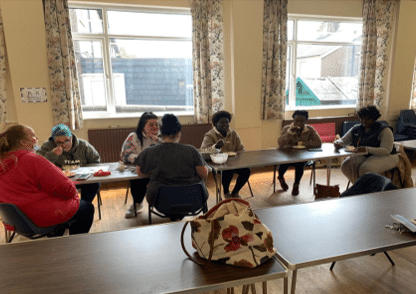 Cultural Sharing with Young Women's Group in Colne
In Colne (a town in Lancashire, England), the Fellows took the opportunity to learn about and experience a different working environment within the area of women and youth reproductive health work. This opportunity arose when the Sexual Health lead at UCLAN put them in touch with an outreach group focused on the education and support of women in Colne.
Through their attendance and participation, the Fellows were able to enhance their learning about how different cultures and social behaviours interact with women and youth reproductive health. This made an impact on the Fellows and inspired them to set up a girls' group at Kagote Health Centre, a health centre in Uganda, with the aim of encouraging health education and empowering girls.
During this placement, the Fellows enjoyed sharing their Ugandan culture as well as learning about the UK culture from others and celebrated through a fusion of UK and Ugandan meals. This was one of the highlights of their stay.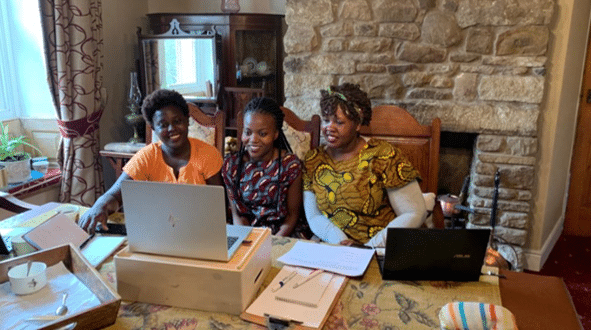 Teaching on Global Health (HIV and Hepatitis)
With restrictions on face-to-face contact owing to the COVID-19 pandemic this academic year, Scollah, Hannah, and Rachel, like many other students, joined online lectures that covered a wide-range of areas. They also used online tools to successfully run Global Midwifery Day on 5 May, where they presented on the management of HIV and hepatitis from a Ugandan perspective to UCLAN students.
All three Fellows are planning to set up an HPV clinic together that is accessible and can reach out people, especially during the COVID-19 pandemic. Scollah is also designing a research project to explore the differing attitudes of local women towards vaccines.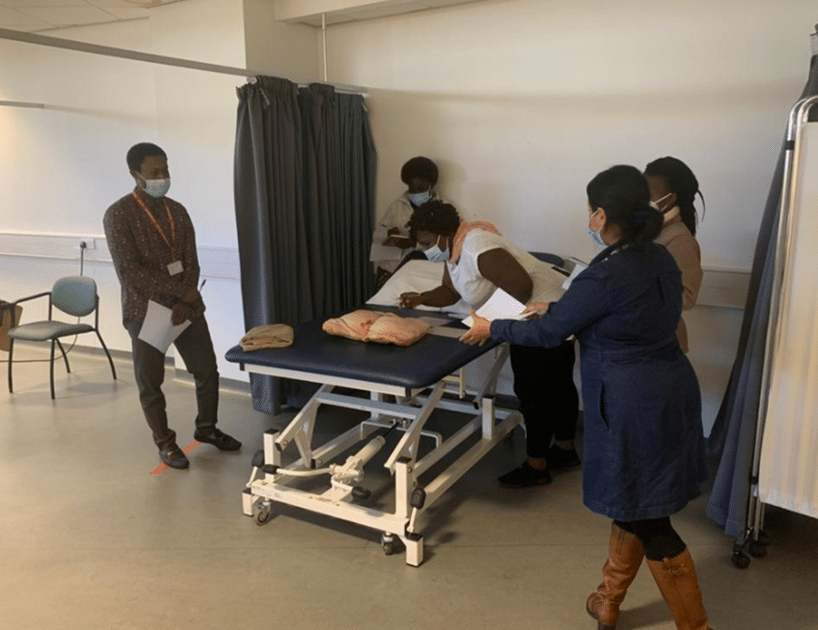 The Virtual Wound Management Clinic
All three Fellows worked with the Tissue Viability team at Salford to establish a virtual wound management clinic which enhanced communication with the hospital in Uganda. In one case, they filmed the dressing of wounds in the simulation suite at Salford which was viewed by colleagues in Uganda.
The Fellows have developed their IT skills significantly over the last three months, particularly with the increasing use of online meeting platforms to organise committee meetings. Furthermore, they highlighted that their greater use of technology, such as adapting to using laptops more during the COVID-19 pandemic, provided them with an easier access to the University's online library.
Their long-term plan is to continue the Virtual Wound Management Clinic between the tutors at University Salford and the colleagues in Uganda and share knowledge monthly. This will continue to strengthen the partnership between the two organisations.
They also plan to set up a community-based wound management clinic at Kagote to decongest the hospital, especially during the COVID-19 pandemic.
An amazing contribution to UK learning
After working with the Fellows throughout their time in the UK, Louise shared her insights on how the Fellows had made an impact on the student and lecturing staff experience in the UK. She was particularly impressed by how committed the Fellows were to learn about evidence-based practice and research, and the professional diligence they showed by embedding this in their work. Passionate, innovative, and always keen to learn more, Louise referred to Hannah, Scollah, and Rachel as the "Busy Women Group". Louise highlighted the wonderful contribution they made and how she had learnt a lot from them too.
Louise mentioned the Fellows' valuable contributions in lectures, sharing their real-life experiences of treating HIV and Hepatitis in Uganda with lecturers and students, as well as enhancing the learning experience of others. Louise shared her belief that the Fellows made her a better teacher because of their great commitment to learning.
Towards the end of the meeting, Louise told the CSC team that in the last three months, she had built not only a professional relationship with the Fellows, but also a personal one too, seeing them as an extended family.
Touching on the nature of Commonwealth Professional Fellowship programme, Louise told us that it enabled her to better understand what it must be like to navigate the UK as a learner from another country.
To find out more about Professional Fellowships, and how to apply as a Host organisation and as a candidate, please visit the Professional Fellowship page.