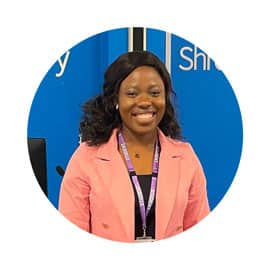 Adurosakin Oluwapelumi Eniola
Commonwealth Scholar Adurosakin Oluwapelumi Eniola joined the Mentoring Programme in 2021-2022 as a Mentee. At the time, as a new Scholar pursuing a MSc in Biotechnology, she wanted to be paired with a Mentor to receive support and guidance on living and studying in the UK.
Adurosakin was paired with a Commonwealth Alumnus from her home-country, Nigeria. Being from same country as well as the same field of study, her Mentor was able to provide useful tips and advice on making the most of her studies.
Building a lasting relationship
Recently, when I got notified of the acceptance of an article for publication, the fourth in 6 months, I couldn't help but marvel at how powerful relationships can be and the need to collaborate.
Every year, recipients of Commonwealth Scholarships are offered the opportunity to apply to the CSC Mentoring Programme and be mentored by a Commonwealth Alumnus. In the application, you can choose the kind of Mentor you want in terms of region (home-country or across the Commonwealth), subject area, and other specifics. Although there is no guarantee of getting your exact specification, the probability of getting someone close enough is relatively high. I chose to apply because I haven't had someone I could refer to as an academic mentor, and, honestly, I wasn't even sure I wanted one.
On a fateful evening, I got a mail from my Mentor to attend a Zoom meeting so we could get to know each other and kick off from there. Indeed, I can say that the meeting ended my lonely academic sojourn. I met my Mentor and we discussed several issues at length. When he realised I had no academic publications, he ensured I started working on one. Aside from guiding on academic publications, he contributed greatly to the success of my MSc, especially when I was writing my dissertation because our research interests were quite similar.
Although that phase is now over, we have built a solid Mentor-Mentee relationship, working together on other projects and he has been a great source of encouragement in my PhD applications.
The CSC's Mentoring Programme, where young professionals can be mentored, is laudable and has played a huge role in my academic pursuits. This experience has taught me the importance of building the right relationships and the need to not shy away from receiving help.
Adurosakin Oluwapelumi Eniola is a 2021 Commonwealth Scholar from Nigeria. She is completing her MSc in Biotechnology from University of Chester.