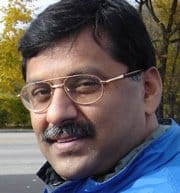 Professor John S Moolakkattu (Commonwealth Academic Fellow from India, 2003-2004) is the founding editor of Ubuntu: Journal of Conflict Transformation, published by the School of Politics, University of KwaZulu-Natal, South Africa.
Since 2008, he has been serving as the inaugural Gandhi-Luthuli Chair in Peace Studies at the School of Politics.
He has published three books and over 25 articles in various journals since his fellowship. The Oxford Encyclopaedia of Peace (due for publication in January 2010) has five pieces written by him.