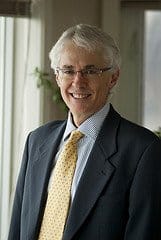 Professor Andrew Petter (Commonwealth Scholar, LLM University of Cambridge, 1981), of the University of Victoria Faculty of Law and former Attorney General of British Columbia, has been announced as Simon Fraser University's ninth President and Vice-Chancellor.
Andrew says that SFU's commitments to teaching and research excellence, and its strong community links, give the university a unique capacity to be a leader in meeting today's social, economic and environmental challenges.
With three distinct campuses, SFU is a cutting-edge university with the capacity to provide its faculty, staff and students the best of all educational worlds. As president my primary goal is to build on SFU's incredible diversity and combination of strengths as one of Canada's leading universities.