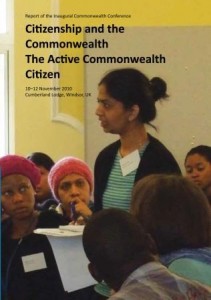 Citizenship and the Commonwealth: The Active Commonwealth Citizen, the report of the inaugural Commonwealth Conference, has just been published by the Institute of Commonwealth Studies (ICS).
Citizenship and the Commonwealth explores what it means to be a citizen of the Commonwealth in the 21st century. It suggests that active citizenship is key to revitalising the Commonwealth, and it makes some challenging recommendations for the future. The report, which is based on papers presented at the Commonwealth Conference in November 2010, will be presented to the Commonwealth People's Forum, which precedes the Commonwealth Heads of Government Meeting in Perth, Australia, later this month.
The Commonwealth Conference was organised by the CSC, the ICS and the Commonwealth Foundation, and brought together academics from across the Commonwealth, as well as Commonwealth Scholars and Fellows, to think about issues relevant to the Commonwealth.