On Sunday 12 March 2023, Commonwealth Alumni and Scholars came together at a hybrid roundtable event to discuss solutions to climate change through the adoption and implement of climate adaptation strategies and science. The roundtable addressed the topic, 'Climate change: clean air and oceans in Pakistan and was delivered by the British Council on behalf of the Commonwealth Scholarship Commission in the UK (CSC).
Building a resilient Pakistan
Welcome remarks were delivered by Usman Khalid, Senior Manager of Higher Education Mobility at the British Council who gave a warm welcome to attendees and highlighted that they can make an impact in Pakistan and society through exposure, and their talent and skillset.
Following introductions, a panel discussion on 'Climate change- building a resilient Pakistan' commenced. The session aimed to address the opportunities and spaces to contribute to discourse and action countering climate change in Pakistan.
The panel comprised Dr Hifza Rasheed, Director General, Pakistan Council of Research in Water Resources (2014 Scholar); Dr Muhammad Khalid Rafiq, Principal Scientific Officer and Programme Leader at Rangeland Research Institute, National Agricultural Research Center (2017 Scholar); and Sana Rasool, Deputy Director at Pakistan's Ministry of Climate Change (2016 Scholar). The panel was moderated by Humairah Jabeen, Project Manager at UN-OPS (2015 Scholar).
Humairah opened the panel by sharing that despite Pakistan's low emissions, it and other low income countries disproportionately suffer from the impact of Greenhouse Gases (GHGs). She explained that to counter climate change, Pakistan has implemented a series of approaches, including introducing renewable energy sources, adopting electric vehicles though the National Electric Vehicles Policy (NEVP), and developing the Ten Billion Tree Tsunami project which sets out to plant ten billion trees by 2023
Dr Rasheed discussed the effects of climate change in Pakistan and highlighted that in 2022, devastating floods affected 33 million people and resulted in 1,700 lives being lost. She stressed that the issues Pakistan is experiencing with reference to water and energy scarcity are interlinked with the climate crisis and that a 'Nexus Approach', which identifies mutually beneficial responses based on an understanding of the synergies between water, energy, and agricultural policies, can effectively mitigate the impact of climate change.
Dr Khalid furthered the discussion by highlighting the need to introduce climate resilient systems such as climate-smart agriculture (CSA) and climate-smart life stock (CSL) production. Dr Sana also raised that there is a gap between policy making and the implementation of climate change actions at the national level.
Climate adaptation for growth and socioeconomic development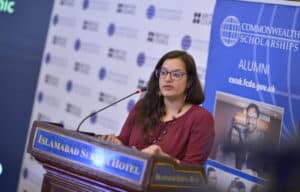 The panel discussion was followed by a lecture delivered by Durreshawar Mahmood (2014 Scholar) on climate adaptation for growth and socioeconomic development in Pakistan. Durreshawar explained that climate adaptation should not be dependent on policy and should instead be multi-sectoral. She also explained that adaptation and mitigation are two separate measures which should be understood separately. Adaptation comes first, for the protection of the area, followed by mitigation measures which are being implemented globally.
The final speaker of the day was Muneeb Ahsan. He introduced attendees to a climate adaptation typology system he is developing for the Climate Change Data Ecosystem (CCDE) Framework commissioned by OECD and PARIS 21 as part of a Hewlett grant project. Muneeb highlighted the importance of reviewing global frameworks and identifying top focus areas for adaptation through data sources and reference databases. He also stressed the importance of practical implementation of policies.
The event closed with a networking dinner.