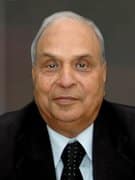 Dr Hari Parkash is a 1974 Commonwealth Fellow from India who has built a career in dentistry that has spanned four decades based on the many innovative techniques he learnt during his Commonwealth Fellowship. His time in the UK increased Hari's knowledge of Maxillofacial Prosthodontics, the treatment of diseases, injuries, and defects of the head, neck, face, and jaw. Hari worked in oral surgery clinics at the Queen Mary Hospital in Roehampton; Caniesburn Hospital, Glasgow; Leicester Royal Infirmary, and Mount Vernon Hospital, Middlesex.
Hari also attended rehabilitation centres in these hospitals to observe patients recovering from head and neck cancer operations. During his fellowship, Hari was able to learn about the latest techniques and modern materials used in facial reconstructive surgeries. He assisted Dr Norman Rowe, a world-leading oral surgeon working in the field. Together they treated patients with facial trauma as a result of severe vehicle accidents.
The confidence and experience Hari gained during his fellowship provided the basis for his own career, where he has made a great contribution to the fields of oral surgery, dental, and maxillofacial disciplines.
Hari enjoyed a long association with the All India Institute of Medical Sciences in New Delhi, working there from 1969 – 2005. Hari initiated the Maxillofacial Prosthodontics Clinic, which continues to treat patients since Hari's retirement. Hari also benefitted from the continuing collaboration with colleagues whom he met whilst in the UK, such as Professor Brian Conroy who visited Hari's clinic during world congresses in prosthodontics during 1995 and 2003.
Following his retirement from the All India Institute of Medical Sciences, Hari now works as Director General of the ITS Group of Institutions. This dental school based in India is split into two separate entities: the ITS Dental College, Research Centre, and Hospital and the ITS Centre for Dental Studies and Research.
Hari has established postgraduate courses in all nine specialities of dental sciences available at the two sub-institutions. At the ITS Centre for Dental Studies and Research he runs a maxillofacial prosthodontics clinic where patients are referred from nearby hospitals after cancer surgery. Hari is responsible for the instruction, research, and supervising clinical work of postgraduate students in prosthodontics.
Alongside his position at ITS Hari also serves as a consultant and member of the board at Star Dental in New Delhi, which plans to set up 300 dental clinics across India. Hari has overseen the establishment of dental services in the clinics as well as recruiting and training staff in the latest advances in dental sciences, materials, and techniques.
Hari's extensive achievements and experience has led to further opportunities in the UK. In 2007 he was offered an Honorary Fellowship in Dental Surgery from the Royal College of Surgeons of Glasgow. Most recently, in 2013 Hari was granted an Honorary Fellowship in Dental Surgery by the Royal College of Surgeons of England. This fellowship reflected his prolific contributions to research (having more than 297 papers published across the world) and in implementing preventative, interceptive, and corrective services in dental surgery rehabilitation.