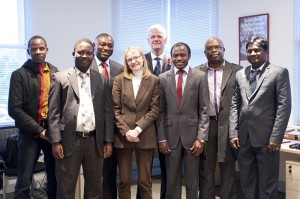 Commonwealth Scholar, Ekemini Obok, is currently pursuing a PhD in Plant Sciences at the University of Reading. Here, Ekemini reflects on the first meeting between Commonwealth Scholars and senior management at the university.
'The 2012 and 2013 Commonwealth Scholars at the University of Reading paid the first ever-official visit to Sir David Bell KCB, the Vice-Chancellor of the University of Reading, United Kingdom on 6th November 2012. Also in attendance was Professor Dianne Berry OBE who is the University's Director of Postgraduate Studies and Research Development.'
Keneilwe Ntshwene, Ekemini Obok, Emmanuel Christy, David Kafwamba, Nathaniel Urama and Richard Bwalya attended the meeting, and were 'highly honoured to have the audience of these key figures at the University, despite their busy schedules.'
'We did not fail to acknowledge the University's 20% contribution to our tuition fees, as one of the Universities in partnership with the Commonwealth Scholarship Commission in the United Kingdom. All the Scholars and Fellows were enthused that such a meeting could take place in their honour.'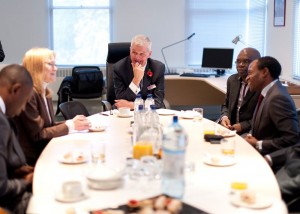 'The Vice-Chancellor applauded our gesture and promised to have us as "lifelong friends of the University". Professor Berry added, "the VC and I really enjoyed our meeting with you and are grateful to you for initiating it. We wish you well with your studies here and hope you take warm memories of Reading back home with you".'
A description of the meeting is also available on the University of Reading's website.
Ekemini Obok with Sir David Bell KCB, the Vice-Chancellor of the University of Reading, UK.