The Kenya Climate Change Act 2016 provides a regulatory framework to enhance Kenya's response to climate change through the development, management, implementation, and regulation of mechanisms to improve climate change resilience and low carbon development. To achieve this, the Act outlines the importance of integrating and mainstreaming climate change actions and interventions at the county government level.
Through the Act, county governments are committed to delivering climate change policies and interventions relevant to the needs of the communities they represent and investing in climate change adaptation projects.
Commonwealth Alumnus Elijah Odundo is the Regional Coordinator for the Devolution and Climate Change Adaptation Programme, which works with county governments in western Kenya on climate change adaptation interventions. In this position, Elijah had a key role in the programme design and is currently leading the ongoing implementation. The programme is comprised of a consortium of six Kenya-based NGOs, which are divided into working groups to provide focused support and expertise to deliver the programme.
Building community consensus for climate change adaptation interventions
Through the programme, Elijah works with local government in the Kisumu, Homa Bay, and Migori counties. The three counties are situated in Kenya's arid and semi-arid lands (ASALs) which are subject to the effects of extreme weather, including severe droughts due to minimal seasonal rainfall and unpredictable flash flooding. Owing to their proximity to Lake Victoria, lands in these counties also constitute a flood plain. As such, adapting to these opposing weather hazards is both critical and challenging.
Elijah's role in the programme is to support the relationship between the three county governments and their local communities to ensure the successful implementation of climate change strategies. This includes helping local communities to implement and manage climate change adaptation projects, supporting communities in holding county governments to account, and improving the skills and knowledge of county government workers in climate adaptation techniques.
Citizen engagement and participation in this process is one of the biggest challenges Elijah encounters. To develop appropriate climate change adaptation policies, governments need to gather information on the impact of climate change on local communities. However, Elijah acknowledges that in Kenya there aren't clear guidelines on what constitutes citizen participation, meaning that citizens who actively petition local government may be the only ones whose voices are heard even though their views may not reflect wider opinions and needs.
"We realise that climate change interventions are a collaboration between different players and that requires a partnership… To sustain the motivation of the communities to participate in this process, they must also look at involvement in climate change adaptation as a meaningful venture."
County governments are comprised of smaller wards, which represent villages within their geographic unit. To encourage citizen participation within the larger county areas, Elijah introduced ward community climate change representatives (WCCCRs) at this local level. The representatives are community members from each village and form a community climate change caucus.
The caucus is responsible for reporting climate related issues at the ward level to present an overall picture of the impact of climate change in their area. The reports are then discussed at a wider Community Dialogue Forum (CDF), which community members can participate in. Following each CDF, Elijah and his team, alongside government county workers review and develop a Community Adaptation Action Plan (CAAPs) to capture the issues that are reported and identify and develop adaptation projects.
Developing this robust governance and public participation framework has ensured communities actively contribute to county government climate-related planning and decision-making. These frameworks play an important role in fostering long-term sustainable and valuable relationships between government and local communities.
Elijah describes how in Homa Bay, the model has been embraced further and the CDF is formally integrated in county government citizen engagement framework and sector working groups.
"We had members of the community dialogue forums from the respective wards who have now been made formally part and parcel of the sector working group that has been created by the county government. This is no longer just the community forum."
Demonstrating the benefits of adaptation
Community participation is not just important at the decision-making level. It is also required to ensure the successful implementation of interventions. Communicating the value of interventions is therefore an important part of securing support and buy-in, and as such, Elijah focuses on adaptations that will make an immediate impact to livelihoods.
"The best interventions are those that enable them [communities] to survive."
One example includes the programme's work on food security and crop production. To support their economic activities and ensure local food security, farmers rely on year-round crop production. In extreme weather, this means introducing technologies and agricultural practices that can adapt to both drought and flooding conditions.
Working with the local governments, Elijah has implemented mini-irrigation systems to support farmers during these weather events. The systems are designed to store water during floods, creating water farm ponds which can be tapped into during drought periods to sustain crops.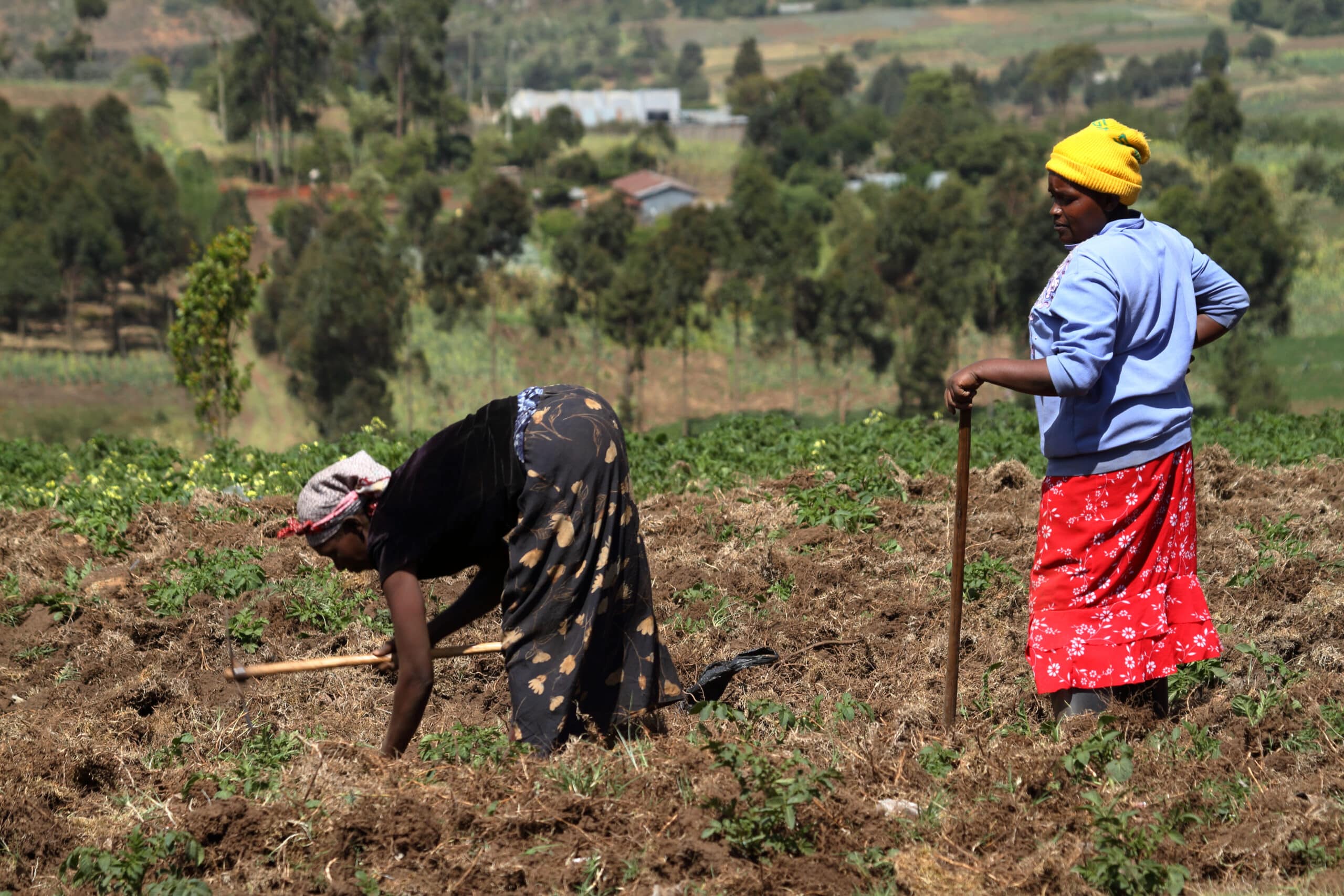 Alongside this technology, Elijah has also introduced farmers to drought-tolerant crops, which are cultivated to grow quickly and in drought conditions, minimising the risk of crops failing due to weather. He has also demonstrated the importance of diversifying the types of crops that are grown in order to suit certain weather conditions. For example, he has provided access to certain rice crops that grow well during rainy seasons and vegetables that can be grown when water is scarce and farmers depend on the water farm funds. By diversifying their crops in this way, farmers can adapt to the weather conditions and manage the risk of food insecurity.
"There are the traditional food crops that have always been produced on our land. Some of them no longer survive in the kind of microclimate that has been created by the weather variability. So, then we work very closely with the County Government Department of Agriculture, to actually identify the crops suitable for those areas and that people already know how to produce."
Prioritising the impact on women
Elijah notes that in introducing these new practices, he has worked closely with women in the local populations. As household leaders and farmers, women play a central role in many of the activities that are at risk because of climate change and it is thought that women's live would suffer the most as a result of the worsening climate impact. Introducing new agricultural practices is one way in which Elijah has supported both male and female farmers, but at the household level he has also addressed challenges around energy supply, and in particular energy for cooking.
"We have been very, very intentional in working with women, because of the stability of their situation in the rural areas and the cultural context."
In traditional households, women and girls are responsible for all domestic tasks, including cooking. The regions in which Elijah works are energy-poor and most energy is used for cooking and generated by burning firewood. Given the geography of ASALs, firewood is scarce making this energy source both unsustainable and environmentally damaging, as it results in deforestation. In an area prone to drought and with little tree cover to begin with, this also introduces a new climate hazard: wildfires. There are also significant health implications from burning firewood in poorly ventilated households.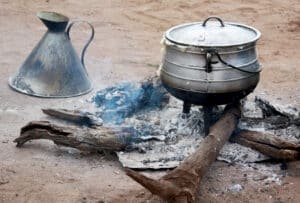 To tackle this risk, Elijah has worked with local communities to introduce sustainable practices around energy sourcing and consumption. To reduce pressures on the use of firewood and in cutting down trees, Elijah has supported farmers to allocate part of their farms for tree production, so they can plant fast growing trees which are suitable for burning. This is only a part solution, however, as the need for firewood far outstrips the rate at which the trees grow. Therefore, introducing new energy sources is of critical importance.
Biogas provides a readily available and clean energy solution to these communities. Working with livestock farmers, Elijah secured the funds through DACCA programme to set-up a small biogas plant which is fuelled by cow dung provided by the farmers. The plant is large enough to support a household and can be replicated in other households in the community, in partnership with farmers.
A leading figure on climate change and WASH
Over his vast career in development, Elijah has also been instrumental in developing water, sanitation and hygiene (WASH) initiatives in Kenya. Between 2012-20217, he served as the National Deputy Chairman for the Kenya Water and Sanitation CSO's Network (KEWASNET). During this time, he contributed to the development of national guidelines on Rural Service Delivery Models (SDM) as developed by Water Services Regulatory Authority (WASREB) Kenya.
He also worked as the Manager for Rural Water Services and Water Service Providers Capacity Building on the USAID funded Kenya Intergrated Water Sanitation and Hygiene project covering 9 counties in Kenya: Kisumu, Busia, Siaya, Kakamega, Migori, Nyamira in Western Kenya, and Nairobi, Kitui and Makueni on the Eastern part of Kenya. The project worked to improve lives and health through development and management of sustainable water, sanitation and hygiene (WASH) services in Kenya.
According to WASREB, water coverage in Kenya's rural areas is 53%, but less than 16% of the rural population have access to piped water sources. SDMs enable water management and maintenance companies in rural areas to work with communities to improve access to water, by providing infrastructure and supplementing existing community-based rural water management.
Reflecting on his work to date, Elijah is proud of his role in supporting national development and in emphasising the importance of citizen participation and community-based management of projects and interventions. In his personal life, he has also used his skills and knowledge of climate change to introduce solar lighting in his rural village, which has encouraged local businesses and other local rural communities to invest in similar sustainable energy technology.
Elijah is now completing his doctoral studies on the water sector in Kenya, building on his CSC-funded Master's and work experience, and hopes to continue to contribute to sustainable development in his home country.
"The Commonwealth Scholarship enabled me to gain the knowledge, skills, perspectives that have so far gained me recognition as an authority in the environment, climate change, and water, sanitation and hygiene sectors in Kenya."
Elijah Odundo is a 2009 Commonwealth Distance Learning Scholar from Kenya. He completed an MSc in Education for Sustainability at the London South Bank University.