The World Conservation Monitoring Centre (WCMC) of the United Nations Environment Program (UNEP) has identified a total of 17 megadiverse countries. The term refers to any country which has at least 5,000 of the world's plants as endemics and has marine ecosystems within its borders.
Malaysia is one of the world's 17 megadiverse countries. As such, it is a government priority to conserve and manage its biodiversity. The National Policy on Biological Diversity 2016-2025 (NPBD) outlines Malaysia's response to conserve its biological diversity, promote its sustainable use, and ensure fair and equitable sharing of the benefits arising out of the utilisation of biological resources.
Commonwealth Alumnus Yew Aun Quek is an Administrative and Diplomatic Officer (Policy Unit) in the Biodiversity Management Division of the Ministry of Energy and Natural Resources. His responsibilities include coordinating Malaysia's representation to the Convention on Biological Diversity (CBD), translating key decisions into domestic policy, and overseeing programmes and projects.
Alongside his work at the ministry, Yew Aun is involved in several projects to further promote the importance of biodiversity conservation and management in Malaysia and improve environmental education. He is one of the co-founders of ReefStakes®, a tabletop board game designed to promote marine awareness, and in 2019, was recognised as an Environmental Education 30 under 30 by the North American Association for Environmental Education (NAAEE).
Implementing policies that work
In his role at the ministry, Yew Aun supports government ministries in developing policies which are sensitive to Malaysia's biodiversity and in delivering education projects to raise awareness. Cross-government collaboration is an important part of managing and raising awareness of ministry specific challenges in biodiversity conservation. They also support the development and implementation of national biodiversity policies by ensuring the needs of other sectors are taken into consideration.
"I think we have to put ourselves in their shoes. We can't change the nature of their work. For example, if you're in agriculture, because their key performance indicator is how much fish I'm going to get at the end of the year, how much crop I'm going to get at the end of the year, you can't go and tell them, hey, can you stop fishing because it's harmful for the sea? Probably you would think more of, can you improve your practices so it's more sustainable in the long run?"
The role of biodiversity conservation and management in Malaysia is the responsibility of both the federal and state governments. However, much of this power rests in the states; with land, forests, river, and even turtles under the state list. The federal government, however, can set policies on biological diversity and implement nationwide interventions and programmes. Among such programes includes the 100-million tree-planting campaign, designed to replant degraded areas and encourage public participation in reaching the campaign target.
Communication, negotiation, and stakeholder engagement are therefore critical in Yew Aun's role to ensure biodiversity management is addressed at all levels.
In 2018, he was involved in the setting up of a National Biodiversity Roundtable, which brought together non-government actors to give recommendations to government on issues related to biodiversity management. Forums such as this provide an important opportunity to draw support for conservation issues among non-state actors and ultimately getting them to contribute to biodiversity conservation at large, especially by helping implement Malaysia's policies.
Tracking progress
As a Party to the CBD, Malaysia is required to submit a national report every four years detailing the policies and measures it has implemented to meet the CBD objectives and 20 Aichi Targets outlined in the Strategic Plan for Biodiversity 2011-2020.
In 2019, Malaysia was required to submit its Sixth National Report. Members of the Biodiversity Management Division were involved in gathering evidence of appropriate policy actions for the submission, and Yew Aun was tasked with managing the project and its administration. In this role, he facilitated discussions, workshops, and assisted in writing the report based on the evidence gathered.
Yew Aun's familiarity with policy language and the biodiversity projects and programmes that had been implemented played an important role in communicating Malaysia's performance.
"We had to look at the 17 targets and the 57 actions before proceeding to score progress; either we've exceeded the target, we're heading towards the target, or we are moving away from the target… I contributed to the report I could understand the technical aspects, speak the language, and bring together various stakeholders.

The final report now provides an important reference on how biodiversity in Malaysia is being protected and managed, as well as challenges and capacity needs which should be addressed in future."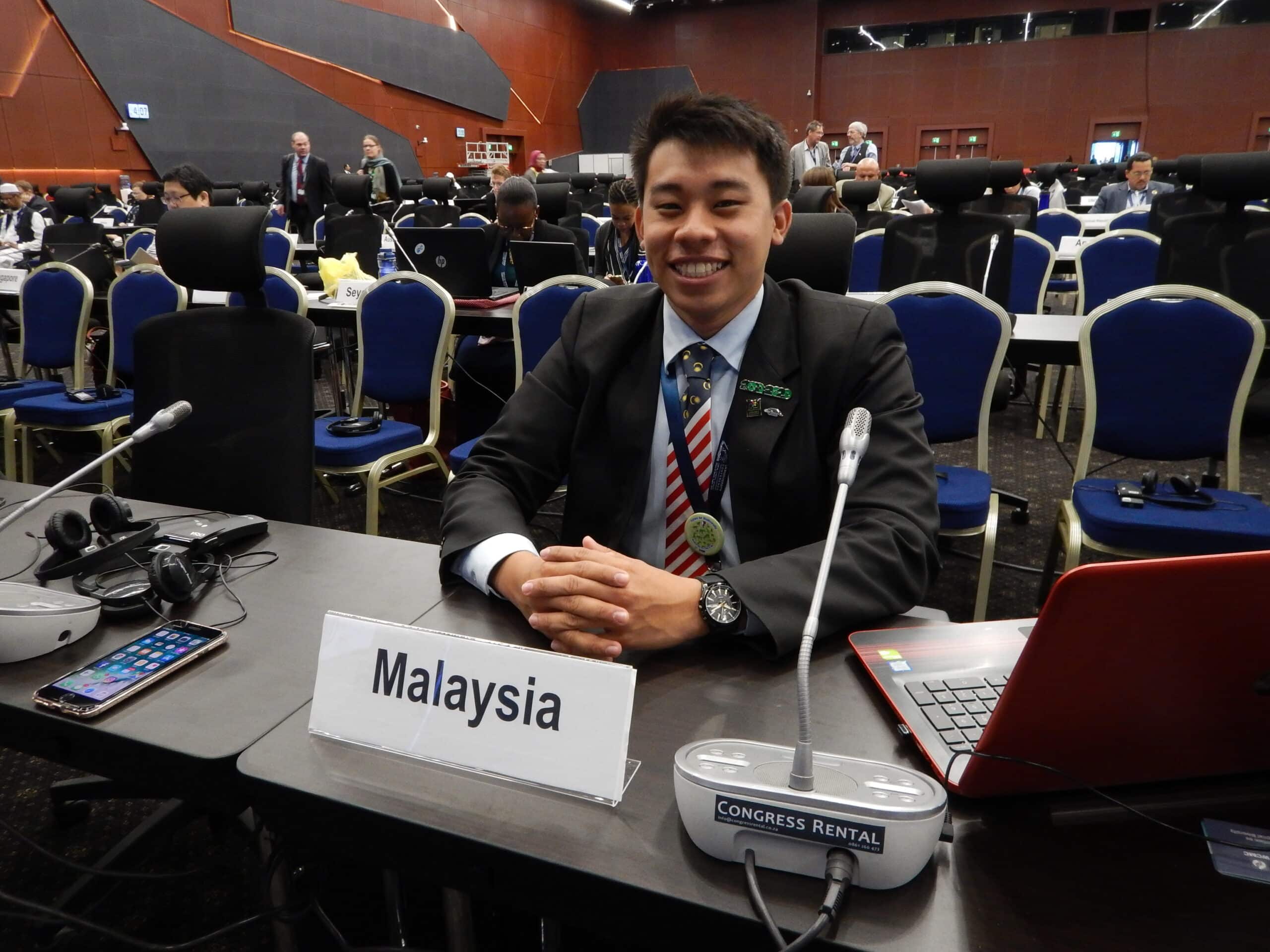 Identifying gaps and driving action
Prior to his Commonwealth Shared Scholarship, Yew Aun had expected to pursue an academic career. However, a short 3-month Perdana Fellowship with the Minister of Plantation Industries and Commodities following his undergraduate degree in marine biology, and prior to the MSc in Biodiversity Management and Conservation at the University of Oxford, changed this.
"[I]t confirmed my suspicion that when you're in academia, you have a limited say, a limited effect on policy, and policy drives action… the experience before going for the scholarship… gave me a taste of what it would feel like in the ministry and how you can influence decisions."
Following his Commonwealth Shared Scholarship, Yew Aun worked for the local NGO, Malaysian Conservation Alliance for Tigers (MYCAT), coordinating the volunteer patrolling programme and Wildlife Crime Hotline. MYCAT worked closely with government partners which further embedded Yew Aun's understanding of the importance of government and stakeholder engagement in conservation work. This led to him applying to his current role in the civil service in 2017.
It was also during his time at MYCAT that Yew Aun was engaged in outreach programmes with urban and rural communities to raise awareness of conservation efforts and the threats facing tigers. In his experience, urban communities were often detached from forest and wildlife-related conservation issues, whereas rural communities were more likely to be aware of the challenges. However, without government regulation, conservation efforts were not always upheld, despite increasing awareness.
For Yew Aun, this highlighted a gap in policy making and regulations and how information about conservation in Malaysia is promoted to the public.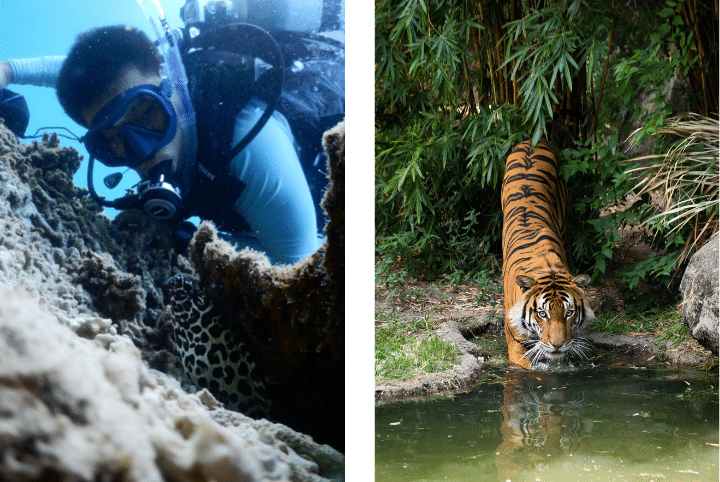 A passion for education
Improving marine environmental education is something Yew Aun is passionate about. In 2018 he co-founded Reef Stakes® together with fellow marine biologists Edmund Lau Chai Ming (formerly from Reef Check Malaysia), Kaelyn Liew Hui Ling (formerly from WWF-Malaysia) and Serena Adam Chua (currently in WWF-Malaysia). The aim of the table-top board game is to simulate real-life stakeholder relationships, introduce some of Malaysia's most iconic marine species, and highlight threats to coral reefs.
"It would be a tool to provide education in a fun way, rather than us going out and giving a talk, and spending a lot of time. It's very difficult, but if we can make education fun, if we can make education approachable, and if we have good graphics, it can go far."
The game plays out the conflict and negotiations between different roles which are typically involved in marine conservation, from developers and conservationists, to fishermen and tourist operators. Players are invited to achieve their individual goals while learning first-hand about the challenges and compromises required to effectively manage biodiversity. Supplementary information on marine conservation and the scenarios and species featured in the game is available on the Reef Stakes® website to further encourage learning.
In 2019, they were awarded the YSEALI Seeds for the Future Grant to develop the game further, which included new graphics and a formal launch. Following this, the team sent 50 copies to several organisations which could benefit from this education tool, including WWF, Reef Check, NGOs, and schools. The game has now been played by more than 30,000 individuals and in 8 countries.
The game reflects marine conservation issues faced in Malaysia, but Yew Aun stresses that it can be adapted to reflect challenges in other countries.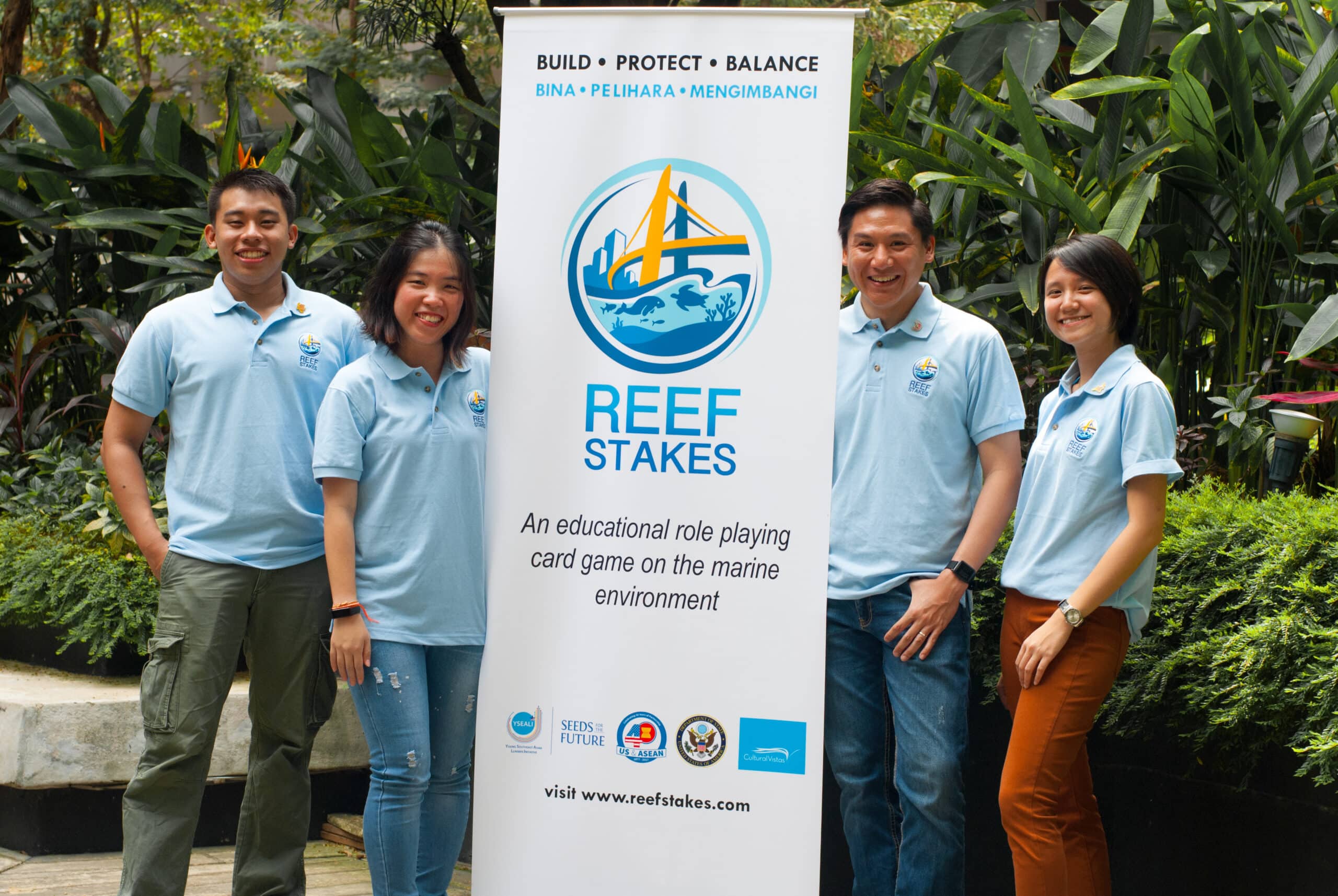 "I think it is very easy to transfer the concepts of the game and replace them with other species and scenarios from other countries. I think biodiversity, everywhere, faces very similar problems, so it can be very easily translated to suit the flavour another country, and it will fit quite nicely."
In 2019, Yew Aun was recognised as Environmental Education 30 under 30 by NAAEE. The programme recognises individuals making a difference through environmental education. Through the programme Yew Aun applied for a Changemakers Grant to develop a new project called Reef Spawn.
As part of the project, Yew Aun and his team will develop three marine environmental videos, deliver a series of virtual knowledge building workshops and a 4-day bootcamp for 12 selected youths, and then monitor workshop participants as they develop their own knowledge building projects.
To select participants, Yew Aun led a nationwide search for students aged between 18 and 25 who are interested in the environment, though do not necessarily have an environmental background. The final group selected represent a range of backgrounds, including marine biology, environmental studies, law, IT, and economics.
Through the workshops, the team will expose participants to various aspects of conservation, whilst the bootcamp, planned to take place on Tioman Island post-lockdown, will provide real-world examples of conservation as outlined in the workshop sessions.
Pursuing future opportunities
Alongside his ministry role and educational work, Yew Aun is pursuing a Bachelor in Jurisprudence at the University of Malaya to further build his legal and policy expertise and perhaps future career opportunities. Thinking on his current work, he's proud of his role and the opportunities to implement his skills and knowledge, and work with stakeholders.
"I'm actually very happy where I am at currently because it makes use of my knowledge and my experience. I think maybe another three or four years in this position. Who knows? I'm very open to other opportunities."
Yew Aun Quek is a 2015 Commonwealth Shared Scholar from Malaysia. He studied for a MSc in Biodiversity Conservation and Management at the University of Oxford.