Commonwealth Alumnus Christine Wanjala is an Education Specialist for UNICEF. Her work is focused on providing education in emergency settings, including during and post-disaster, and in the early recovery phase. She is currently based in South Sudan where she manages the Outreach project providing teacher incentives and training, alongside continuous professional development to approximately 8,000 teachers. The project aims to motivate teachers, enhance teacher retention, and strengthen teaching practice and education in the country.
South Sudan gained independence from Sudan in 2011, marking the end of Africa's longest-running civil war. In 2013, however, civil war broke out again, resulting in the displacement of over 4 million people. In 2018, a power-sharing agreement was signed in a bid to bring the 5-year conflict to an end. A cease-fire has been in place since 2018, however intercommunal violence in some areas is still reported, as well as fighting between armed groups.
It is in this context that Christine and her team are working to ensure every child has access to quality education.
Addressing local challenges
Working in a conflict-affected country poses significant challenges and Christine stresses the importance of being flexible and adapting to the environment in which they are working to deliver programmes. Insecurity is one of the greatest risks to the programme, with instances of ongoing pockets of conflict and fighting presenting a serious threat to the safety of her team, as well as the children and teachers they are trying to reach.
South Sudan has 10 states and three administrative areas and is home to over 60 different major ethnic groups. To implement an effective education programme, Christine and her team need to be sensitive to the needs and beliefs of the groups represented in these geographical areas, as well as local challenges, such as the lack of transport routes.
To address these geographical challenges and ensure the project is adaptive to the local community context, Christine and her team are establishing county education centres. Each centre will be led by education experts who will design and develop specific education plans for their area and provide appropriate teacher training to deliver these. They will also provide monitoring and oversight of school performance and ensure schools and teachers are meeting expected standards.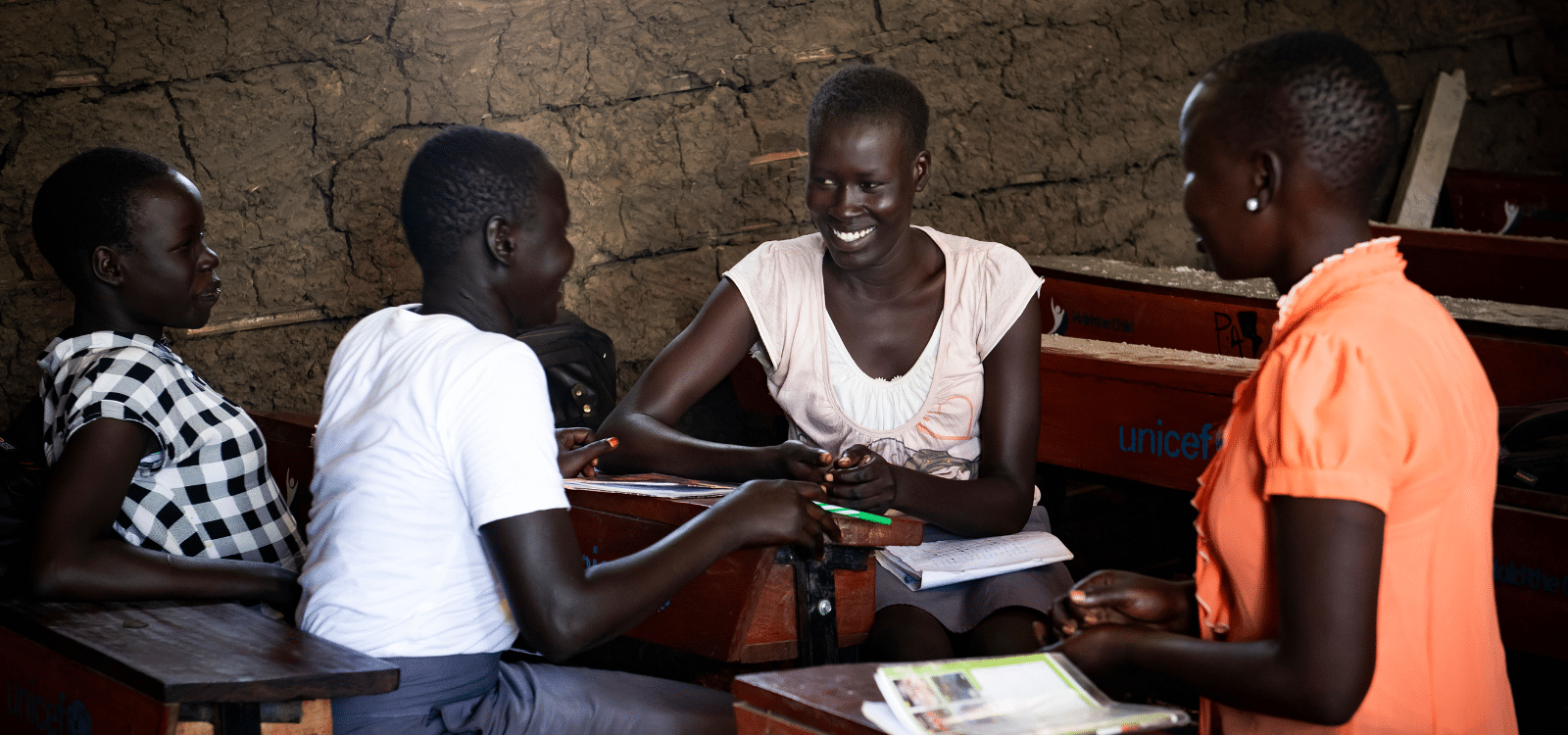 Christine shares that existing education structures in the context of South Sudan suffer major limitations. As such, there are very few trained teachers to help build a national education system. The Outreach project is therefore focusing on strengthening existing teaching practice and school management. This includes training headteachers and senior management committees to govern schools and build the capacity of parent teacher associations to drive the demand for delivery of quality education.
"South Sudan doesn't have very many teachers, trained teachers in particular, because of the conflict history. And so, we're trying to build the capacity of schools, capacity of government, the state ministries, just to ensure that they put in place structures to ensure there's provision of teachers in schools."
Addressing all needs of children  
Schools are more than places of learning. In emergency settings, they can provide a lifeline to other important services, including food, Water, Sanitation and Hygiene (WASH), and they can provide a safe space for children. Christine highlights the importance of integrated programming when developing education and school services in emergency settings.
"[W]e are looking at a school as a one-stop shop for all the needs of the child. When this child comes to school, education is number one, yes. But for the child to get education, they must be healthy. They must have sanitation. A school environment has to be clean. They must have the psycho-social support within the school… All these things [must] come together."
In South Sudan, integrated programming includes the construction and rehabilitation of boreholes to ensure school environments provide access to hygiene and sanitation services. Providing sanitary services also creates a safe space for girls to access education as they provide privacy and facilities during menstruation, enabling them to continue their studies during this time.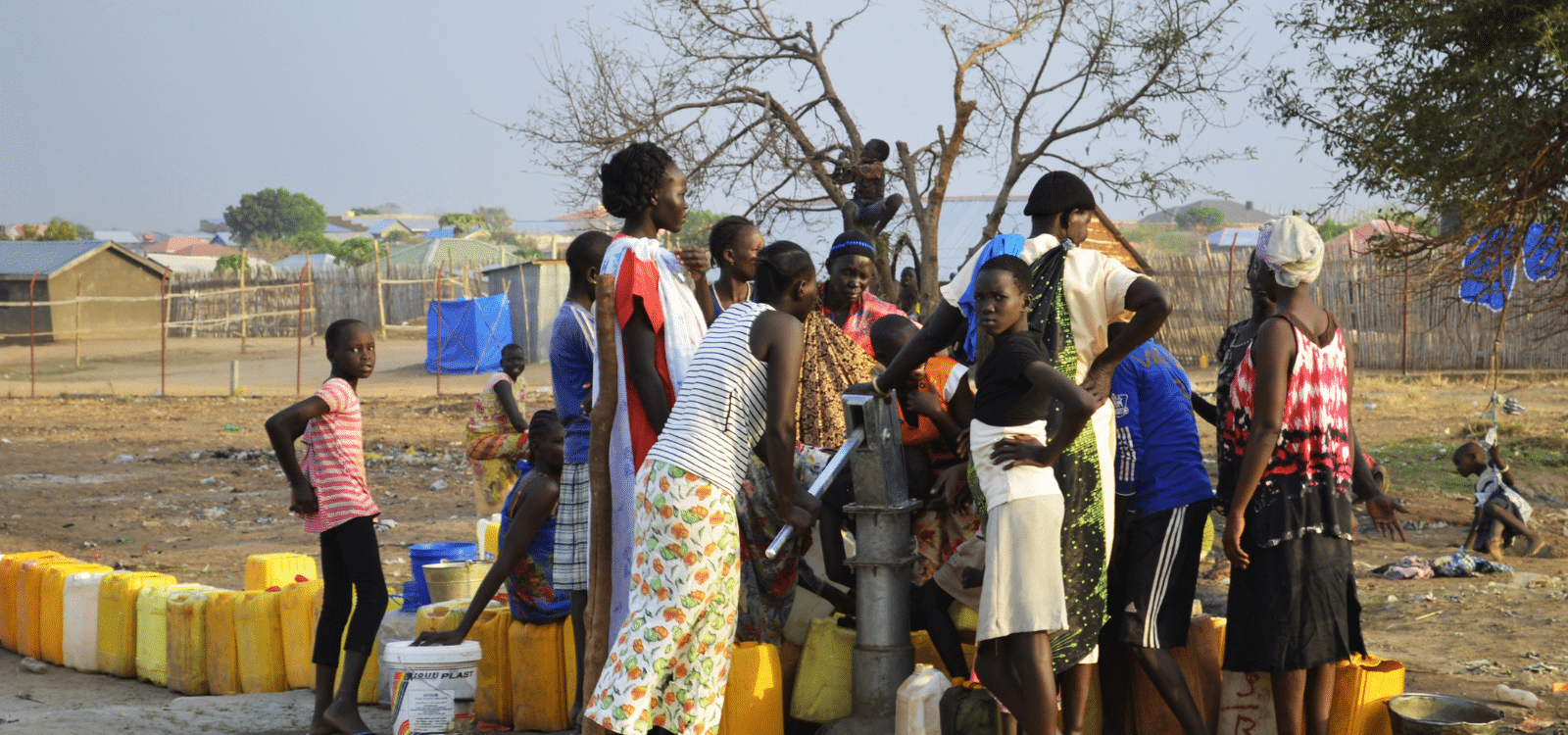 Supporting girls' access to education is another important part of the integrated programme. To encourage girls to attend school, Christine and her team are providing mobility allowance to enable the deployment of more female teachers into rural schools to support girls educationally and socially, and act as role models.
The provision of integrated services within school settings forms an important part of the programme's monitoring and evaluation framework. Alongside assessments of teacher, student, and overall school performance, the delivery of additional services, such as nutrition programmes and WASH facilities, will be monitored and taken into consideration when assessing the overall success of the programme.
Christine is pleased to share that the measures currently in place have been well received by teachers and children.
"I think in the schools, the children are very excited. They want to learn. The teachers are very excited. They want to learn."
She notes that continued work with the government will play a significant role in ensuring further progress and commitment to delivering education programmes in South Sudan. In particular, Christine notes South Sudan's commitment to the UN Sustainable Development Goals, which includes SDG 4: Quality Education.
"[W]e are also advocating very much with the government, telling them, you have signed the SDGs. You have signed other children's rights to education policies. And so, you have to deliver."
Supporting refugee education in Ethiopia
Prior to her work in South Sudan, between 2019-2021, Christine was an Education Specialist in Ethiopia working for UNICEF, tasked with coordinating an education programme for refugees and host communities. According to the UNHCR, as of August 2022, the total number of refugees and asylum seekers in Ethiopia is estimated to be 874,239. 46.4% of these are from South Sudan.
At the time, host communities received access to a national education programme while a parallel education programme was delivered for refugees. Christine sought to bring the two together to develop an integrated national education programme which would provide access to education for all, regardless of their status.
To achieve this goal, Christine worked closely with the UNHCR, UNICEF, and other partners to identify how the two programmes could be brought together. Government support for integrating the two programmes was also significant. By integrating the education programmes, the government would assume responsibility for continued delivery under the Ministry of Education. Christine was responsible for ensuring all stakeholder's needs and goals for delivering education as a whole were considered when integrating the programmes, and that the government would have the capacity to monitor and deliver the programme without agency support in future.
Looking back, Christine is proud of her work in Ethiopia and in providing equal access to education for refugees.
"[T]his is rewarding because all the time, refugees are left behind. And one of the focuses of [the] SDG's is to look at the most left behind. So, that was a big drive in ensuring that refugees are also incorporated in national education developments."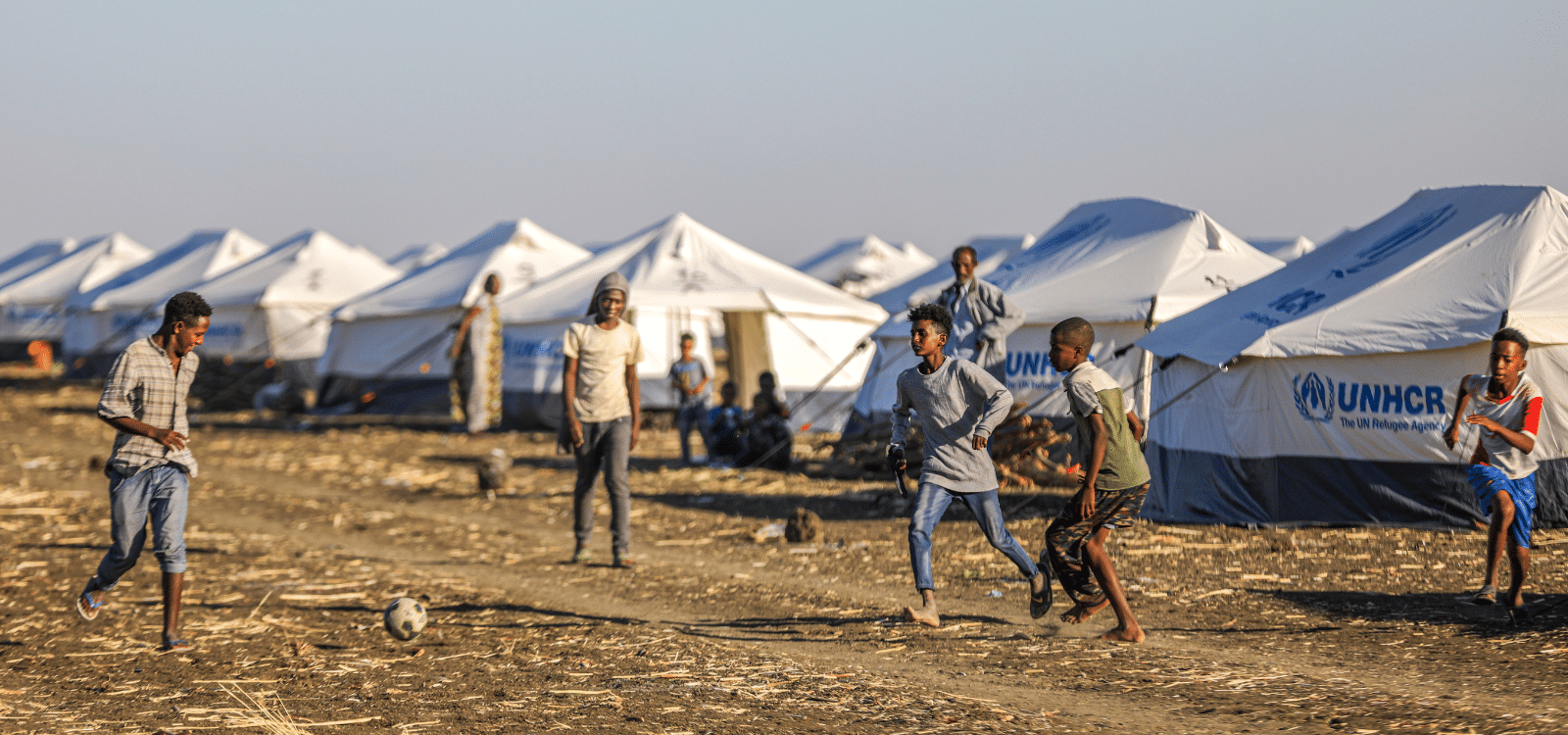 Achieving long-term impact
Reflecting on her extensive career as an Education Manager and working in emergency settings, Christine stresses the important role of NGO's and UN agencies in delivering education programmes and additional services.
She highlights her work on the multi-year UN Education Cannot Wait (ECW) programme for education in emergencies and protracted crises. ECW works to increase the speed of education-related crisis response and connect immediate relief and longer-term interventions through multi-year programming. Through this approach, specialists such as Christine are required to consider the longer-term needs of learners and the sustainability of education programmes and facilities provided by schools.
"[W]e are trying to shift from these quick-quick humanitarian sudden response and run away. We're looking at sustainability. And that's when we [are] going into humanitarian preparedness. So, the preparedness looks at the current situation but also, we move our step to look at the early recovery, and the sustainability."
Through a multi-year focus, programmes such as the ones that Christine develops and implements are built for longer-term success and to ensure that governments are able to successfully manage continued delivery when agencies step away.
Thinking back to her Commonwealth Scholarship at the University of Sussex, Christine credits this opportunity for encouraging her to take a wider focus on international education and development programmes. At the start of her PhD programme, Christine focused on girls' education, however she soon realised that to achieve impact she needed to develop a broader understanding of delivering education programmes to vulnerable communities and the leadership skills required to ensure programmes reach the most vulnerable. Later in her studies, she focused on the broader leadership in international education and development, which is now one of her speciality areas.
Now, as a leader, Christine feels her ability to motivate people is one of the most important things she brings to those she works with.
"I am a motivator. And whenever I go to schools, whenever I go teachers, whenever I go to communities, I motivate them. I speak to them. I lost my parents when I was very young, and I managed to cruise through a very difficult life to rise to this level. And so, I use this as an opportunity to speak to the people to give them hope in their future."
Dr Christine Wanjala is a 2014 Commonwealth Scholar from Kenya. She completed a PhD in International Education and Development at the University of Sussex.