As a small island developing state, and with one of the world's most geographically dispersed populations, the Maldives face a unique set of challenges – from rising sea levels to the vulnerabilities of an economy that relies heavily on tourism. Higher education has a vital role to play in the search for solutions to these and other challenges – and the Maldives has seen soaring growth in the nature of student demand. But how can nations and institutions ensure that higher education is delivering on its promise?
Quality and accountability
Commonwealth Alumnus Aminath Shiyama (Shimmi) is the Quality Assurance Controller at The Maldives National University (MNU). MNU began in 1973 as the Allied Health Services Training Centre and has grown over the last 50 years. It was established as a university in 2011, and as such is a young university and still in the process of establishing policies and processes to ensure quality higher education.
Following her appointment in 2021, one of the first tasks Shimmi undertook was, with support from her colleagues and superiors, to start developing quality assurance framework for the university encompassing all university services. The framework seeks to ensure quality learning opportunities, good governance and legislation, and accountability in all services of MNU.
Although Shimmi did not have a direct background in this area of work, her exposure to quality assurance policies through her studies in the UK, and her previous teaching experience at MNU, made her uniquely qualified for the role.
During the design of MNU's internal quality assurance framework and systems, Shimmi drew on her knowledge of the European Standard Guidelines, she had acquired through the work with QAA, she had worked on in applying for MNU's International Quality Review (IQR). Shimmi believes that the IQR experience of MNU is helping to build a robust internal quality assurance framework that would meet the needs of MNU and support the institution's mission and vision to be an exemplary university in the region and internationally.
Shimmi notes that her time spent studying in the UK and knowledge of UK higher education helped in in developing a sound relationship with the QAA and in managing the work of the IQR process.
"During the visit of the QAA team the thing that we bonded over most was the knowledge of the UK HEI system because I had spent a couple of years in the UK, and knowing that stuff, we were able to connect. We were able to have a sound conversation."
Forging connections and raising voices
Raising international awareness of education in the context of small states is an important part of Shimmi's approach to education. During her time at the University of Bristol, she joined the Education for Small States Research Group (ESSRG) – a network focusing on issues relating to the study of education policy and practice, sustainable development, and research capacity in small states. Currently she is a  coordinator of the ESSRG.
Shimmi's approach to raise the voices of small island developing states is clear in how she approaches her work and her broader networks. When applying for projects with external funding, her immediate approach is from a small states perspective. Her connection to the small states through the ESSRG is something she wants to amplify through her work and future associations.
"The immediate thing that came to my mind was, it has to be small states. It has to be. Because for us, we are trying to raise our voices, not just in terms of our environmental problems, but also in terms of how we do different services. So I said, we should do this. And then I immediately contacted my USP connection, and she was immediately on board as well."
Shimmi is passionate about raising awareness of the challenges faced by small states and the role they must play in developing their own policies and frameworks to overcome these.
"It's easy for people to say, this is the best practice thing that we [small states] should be able to look on and be able to borrow policies from other countries. But for us, within the small state literature, we're saying that's not what we want. We want to be looked at within our context and refer to those policies as a frame, a guideline, and contextualise these things."
Inspiring a new generation of eco-citizens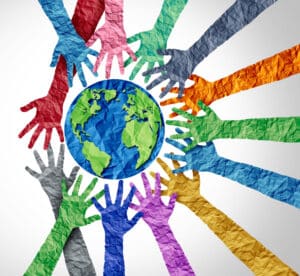 In addition to her work at MMU, Shimmi is passionate about developing eco-citizens and incorporating sustainability and environment education in both the formal and informal school curriculum. In 2021 she was involved in UNICEF's Green Schools Project, which seeks to inspire and empower young people to become eco-citizens through the formal school curriculum.
The Green Schools Project in the Maldives – Fehi Madharusa in translation – explored the idea of incorporating environmental education into the primary school curriculum. Shimmi, who had worked as a school science teacher before joining MNU, along with her colleagues were assigned to one component of the project which focused on supporting teacher professional development.
Six schools were involved overall and Shimmi and her team were responsible for training teachers in various dimensions of environmental education, including developing content and how to deliver this to primary school students. Within environmental education, in consultation with the Ministry of Education, they selected a range of themes, including biodiversity, air pollution, and water pollution to explore in the online teacher professional development sessions delivered.
Rather than develop the curriculum solely within the team, they worked closely with local teachers on the best ways to approach content and curriculum development, tasking teachers with creating learning resources and materials. Reflecting on her approach and input to this project, Shimmi feels her PhD studies directly influenced the focus and approach to the professional development sessions for teachers.
"The way we developed those professional development programmes was different, it was very much influenced by what I've learnt in my PhD. I did not want to use the standard 'deficit-model' that is often associated with teacher professional development. Instead I wanted to understand their learning process and its evolution as a unique journey for each teacher and how they make meaning of their own learning as a teacher and learner."
Following this experience, Shimmi is now collaborating with a colleague at Oxford Brooks University (OBU) in the UK on a project exploring how students develop global citizenship across different contexts and the role of teachers in supporting this. Funded by a grant from OBU, the project will be delivered with four primary schools in the UK and three in the Maldives in 2023.
"The project and research will focus on environmental education, sustainability education, and global citizenship, which is very much aligned with the work I did in my PhD."
Renewed focus
Shimmi's studies and time at the University of Bristol have had a lasting impact on her skills and attitude to work. She has returned with a renewed focus on supporting MNU and higher education in the Maldives and her new role has provided opportunities to implement her research skills, both in developing the quality assurance framework and in supporting colleagues across the university for the growth and development of MNU.
This has included supporting various functions of the university, using her understanding of quality assurance and her personal experiences as a researcher. In a more centralised university role, Shimmi also notes that her increased exposure to the work of different faculties and offices has enabled her to provide input into policymaking and the curriculum through a better understanding of university operations as a whole.
Shimmi remains passionate about teaching, despite taking on a different role post-Scholarship. She does, however, feel that her studies and her previous teaching experience have unlocked new and exciting opportunities.
"I have my moments when I'm like, I do want to go back to teaching and become a full-time teacher. But then I'm thinking, hold on a second, I've earned all this experience and everything, and I really do want to use that. With these collaborations and projects that I have, I am still teaching but in a different way.

I may not have planned for this when I applied for my Scholarship, but now that I am here, I am thankful that this has been made possible by the Scholarship experience and the journey has been absolutely worth it."
Aminath Shiyama is a 2016 Commonwealth Scholar from Maldives. She completed a PhD in Science Education at the University of Bristol.