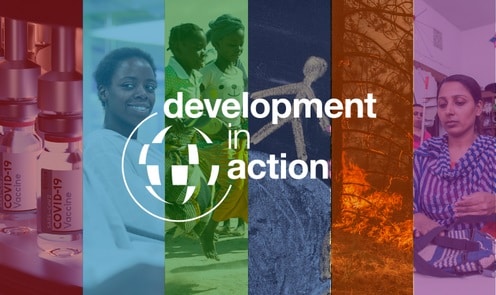 Development in Action Webinar SeriesExploring impact through doctoral research: In conversation with the 2022 CSC Research Impact Award winners
Exploring impact through doctoral research
In this webinar, Commonwealth Alumni Mirriam Makungwe and Dr Olajide Olusola, the winners of the 2022 CSC Research Impact Awards (RIA), will discuss their winning research articles and the important role of research and researchers in addressing global challenges and contributing to sustainable development through the implementation and uptake of their findings.
Mirriam will highlight her experience of conducting research in the field of agriculture and food security in Zambia. Olajide will discuss his experience as a researcher in the clean renewable energy sector in Nigeria. Both will discuss their ongoing role in actualising their research findings and contributing to real-world change. It will be an opportunity for attendees who are currently completing or have already completed research degrees to ask questions and engage with the speakers on this topic.
Mirriam Makungwe is the winner of the 2022 CSC Research output stream, part of the CSC's Research Impact Awards (RIA). Read more about her winning article on the CSC website.
Olajide Olusola is the winner of the 2022 Taylor & Francis CSC Research implementation and uptake stream, part of the CSC's Research Impact Awards (RIA).  Read more about his winning article on the CSC website.
This webinar will address the CSC development theme, Science and technology for development.
The webinar will last for approximately one hour, including a Q&A session.
The CSC's Development in Action webinar series provides an opportunity for Commonwealth Scholars and Alumni to present on their work and contribution to development across a range of contemporary global challenges and provide insight into ongoing research and action.
Open to all Commonwealth Scholars and Alumni, the monthly webinars will address one of the CSC's six development themes and provide an opportunity for attendees to engage in real-time Q&A discussion on the topic presented.
You can watch previous webinars on the CSC's YouTube channel.
Mirriam Makungwe is currently working as a Research Officer at the Innovations Scaling for the International Water Management Institute (IWMI). She is a Zambian Women in Agricultural Research and Development (ZaWARD) member and an Africademics Scholarship Ambassador.
Mirriam Makungwe is a 2019 Commonwealth Split-site Scholar from Zambia. She completed a PhD in Integrated Soil Fertility Management at the University of Nottingham.
Dr Olajide Olusola is presently a Senior Lecturer and the Examination Officer of the Department of Physics at the Federal University of Technology, Akure (FUTA), Nigeria. He serves as a reviewer to both Nigerian-based and internationally–based journals of high impact. He also tutors undergraduate and postgraduate scholars working in the technology of thin films fabrication field across various universities in Nigeria.
Dr Olajide Olusola is a 2012 Commonwealth Scholar from Nigeria. He completed a PhD in Environmental and Sustainability Systems at Sheffield Hallam University.