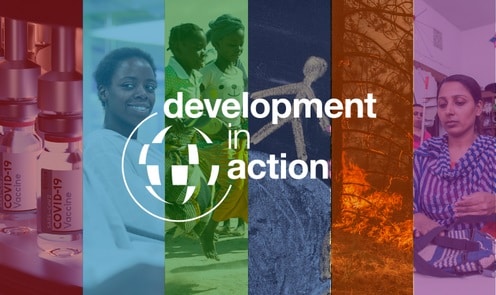 Development in Action Webinar Series Understanding how carbon financed projects contribute towards Sustainable Development Goals
Time: 11:00 – 12:00 (GMT)
Implementing carbon finance projects to support climate mitigation and adaptation
In this webinar, Commonwealth Alumnus Lilian Kagume will shed light on what it takes to develop a high-quality carbon financed project that contributes to measurable SDG targets, and the importance of carbon finance in the run up to the 2023 United Nations Climate Change Conference (COP 28).
Carbon projects contribute significantly towards the attainment of Sustainable Development Goals (SDGs). These projects range from energy efficiency to nature-based solutions, with a core purpose of providing climate mitigation or adaptation solutions to communities. A key requirement for carbon projects under the voluntary standards is to demonstrate contribution to SDGs, where SDG 13 on Climate Action is mandatory for all projects.
This webinar will address the CSC development theme of Strengthening resilience and response to crises.
The webinar will last for approximately one hour, including a Q&A session.
The CSC's Development in Action webinar series provides an opportunity for Commonwealth Scholars and Alumni to present on their work and contribution to development across a range of contemporary global challenges and provide insight into ongoing research and action.
Open to all Commonwealth Scholars and Alumni, the monthly webinars will address one of the CSC's six development themes and provide an opportunity for attendees to engage in real-time Q&A discussion on the topic presented.
You can watch previous webinars on the CSC's YouTube channel.
Lilian Kagume is the Head of Carbon Asset Development at Climate Impact Partners, a UK based company that delivers solutions for action on climate. She supports the delivery of quality, scalable and high impact carbon projects.  
With over 6 years' experience in designing carbon projects, Lilian uses her background in environmental management to measure, analyse, report, and verify the outcomes delivered by projects. She also has expertise in monitoring progress against the Sustainable Development Goals (SDGs) and can assess SDG outcomes of multisectoral projects and policy interventions using different internationally recognised tools and methodologies. 
Lilian Kagume is a 2015 Commonwealth Distance Learning Scholar from Kenya. She completed an MSc in Environmental Management from the Open University.