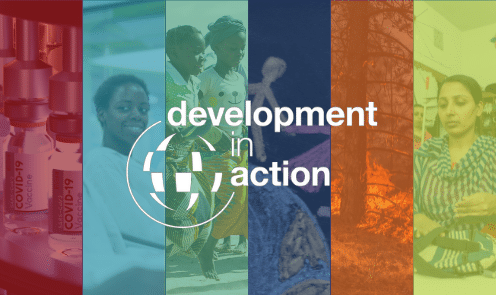 Development in Action Webinar SeriesBuilding Climate Resilience in Small Islands- Barbados and the Commonwealth of Dominica
Date: December 2022 (TBC)
Building climate resilience in Small Islands
In this webinar, Commonwealth Alumnus Dr Claire Durant will discuss how climate change is negatively impacting small islands in the Caribbean. These islands are susceptible to sea level rise, saltwater intrusion, hurricanes, drought, and increased temperatures to name a few climates induced challenges. Despite their small contribution to global Green House Gas emissions, Barbados and the Commonwealth of Dominica have to respond to the challenges caused by climate change whilst safeguarding fragile economies and ecosystems.  
This webinar will address the CSC development theme, Strengthening resilience and response to crises.
The webinar will last for approximately one hour, including a Q&A session.
The CSC's Development in Action webinar series provides an opportunity for Commonwealth Scholars and Alumni to present on their work and contribution to development across a range of contemporary global challenges and provide insight into ongoing research and action.
Open to all Commonwealth Scholars and Alumni, the monthly webinars will address one of the CSC's six development themes and provide an opportunity for attendees to engage in real-time Q&A discussion on the topic presented.
You can watch previous webinars on the CSC's YouTube channel.
Dr Claire Durant is a Resilience Mapping Consultant for the Commonwealth of Dominica Climate Resilience and Executing Agency (CREAD). She supports the island's strategic planning and capacity building towards achieving its goal of becoming the first climate resilient nation in the world.
As a Senior Non-Key Expert for the EU Global Climate Change Alliance Initiative (GCCA+) in Barbados, Dr Durant supported the design of a National Carbon Credit Initiative in collaboration with the EU, national stakeholders, and policy makers. Project goals included environmental sustainability, climate adaptation, and the generation of a safe and decent livelihood opportunities for youth, women and vulnerable persons.
As Project Consultant for the Caribbean Community Climate Change Centre (CCCCC) and Caribbean Development Bank (CDB), she developed the multifaceted 'Building Climate Resilience in Barbados' Agriculture Sector – Irrigation and Wider Adaptation Project', designed  to prepare farmers and youth entrepreneurs to embrace climate smart agriculture, and handle both challenges and opportunities inherent in future production.
Dr Claire Durant is a 1992 Commonwealth Scholar from Barbados. She completed a PhD in Biology at Imperial College London.