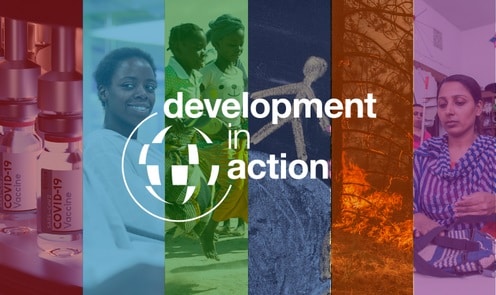 Development in Action Webinar SeriesPrivate eye care in Nigeria: A key to SDG 3?
Private eye care in Nigeria: A key to SDG 3?
In this webinar, Commonwealth Alumnus Dr Omojeme Adomi will discuss how eye health care is a key component of public health and achieving UN Sustainable Development Goal 3: Good health and wellbeing. Dr Omojeme will discuss the critical role of the private eye health sector, especially in countries like Nigeria where the lack of political investment to address healthcare issues has weakened the public health sector.
Dr Omojeme will highlight how her Commonwealth Distance Learning Scholarship has equipped her to play a key role in bridging the gap between the private eye health sector and public eye health care.
This webinar will mark  World Sight Day which is takes place on 13 October 2022. The theme for 2022 is #LoveYourEyes
This webinar will address the CSC development theme, Strengthening health systems and capacity.
The webinar will last for approximately one hour, including a Q&A session.
The CSC's Development in Action webinar series provides an opportunity for Commonwealth Scholars and Alumni to present on their work and contribution to development across a range of contemporary global challenges and provide insight into ongoing research and action.
Open to all Commonwealth Scholars and Alumni, the monthly webinars will address one of the CSC's six development themes and provide an opportunity for attendees to engage in real-time Q&A discussion on the topic presented.
You can watch previous webinars on the CSC's YouTube channel.
Dr Omojeme Adomi is a Clinical Optometrist with over 15 years experience working in the private and public eye care sector.  She is a Low Vision Practitioner, heading the Optics Department and is the Outreach Director at one of the major eye hospitals in Lagos State, Nigeria.
Dr Omojeme has a passion for public health education with an emphasis on eye care and wants to bring about a change in health care service delivery in Nigeria. She obtained her Doctor of Optometry from the University of Benin, Nigeria in 2007.
Dr Omojeme Adomi is a 2017 Commonwealth Distance Learning Scholar. She completed her MSc in Public Health at the University of Liverpool.