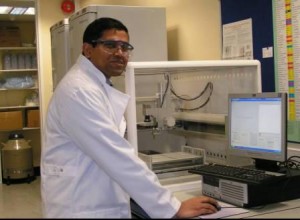 Dr Amam Zonaed Siddiki (Commonwealth Scholar, PhD in Molecular Parasitology, University of Liverpool, 2002-2006) was recently awarded a Fellowship by the British Council, Bangladesh to attend a training workshop on 'Building a successful international research career'.
Amam was one of the five selected participants from Bangladesh who attended the workshop, which focused on techniques for developing and maintaining international networks and embedding international partnerships along with bidding for external source of funding. The workshop, held in February in London,and was sponsored under the Talented Researcher Programme of the International Strategic Partnership in Research and Education scheme funded by the British Council.
Dr Siddiki was recently awarded an Australian government-funded Endeavour postdoctoral research fellowship for the year 2010. Dr Siddiki will be joining the Marsupial Research Group of the Department of Biological Sciences, Macquarie University, Sydney to conduct subspecies identification and molecular epidemiology of Cryptosporidium isolates collected from human and animals in Bangladesh and Australia.