North East
Regional Network Coordinator
Ruben Muhayiteto (North East)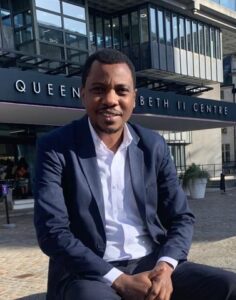 Ruben Muhayiteto is a Commonwealth Scholar from Rwanda, currently studying for a PhD in Health Promotion with particular focus on teenage mothers' health and wellbeing. He completed Master's degree in Development Studies from the University of Rwanda in 2018.
Before pursuing PhD, Ruben held the position of Statistical Training Center and Data Science Campus Manager at the National Institute of Statistics of Rwanda. He coordinated  statistical literacy and capacity building activities and events targeting government and private institutions, civil society, media, academia, researchers, and organisations. Prior to this, he was involved in improving practices of dissemination and reporting on national development indicators to the international community for SDGs monitoring, through close and strategic collaboration with the World Health Organization (WHO), United Nations Children's Fund (UNICEF), and African Development Bank (AfDB) among others.
Ruben's research interests lie in health promotion and health service provision, as well as tackling health inequalities in the community.
Your network
Join the North East Regional Network Facebook group to find out about upcoming events and get in touch with your Regional Network Coordinator and other network members.
If the name used on your Facebook account differs from that on your award documents, please contact engage@cscuk.org.uk with your CSC reference and your name as it appears on Facebook so that your request to join the group can be authorised.
University Representatives
If you are interested in becoming a University Representative and assisting in building a strong network of Scholars and Fellows, please contact the relevant Coordinator for your region or email engage@cscuk.org.uk to find out more.