Regional Network Coordinators
Mary Adejoh (West Scotland region)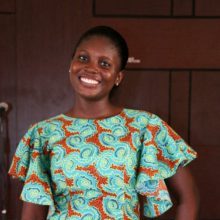 Mary Adejoh is a Commonwealth Shared Scholar from Nigeria, currently studying Environmental Management (MSc) at the University of Stirling in Scotland. She's a first-Class graduate of Biology in the department of Biological Sciences from Federal University, Lokoja in Nigeria.
She is interested in the roles of policy making and implementation in driving environmental conservation whilst improving health and well-being. With relevant work experiences gained while working with CSR-in-Action, West Africa's leading consulting firm in sustainability and global reporting, she has served in diverse capacities and volunteered in different roles in a leadership capacity.
She loves nature, poetry, helping and encouraging people, volunteering, teaching and giving back to society in any sphere of influence she occupies. Mary is solution driven, a team player, one who loves to read, connect with people and is committed to be a driver of sustainability in systems.
Mary believes that "Impossible is nothing!" and that, "we ought to be the change we want to see."
Dr Monika Negi (East Scotland region)
Dr Monika Negi is a Commonwealth Shared Scholar from India, studying for a Master of Science in Global Health and Management at the University of Aberdeen. She has completed Master's in Dental Surgery in Oral Pathology, Microbiology and Forensic Odontology and Bachelor's of Dental Surgery from Himachal Pradesh University, India.
Dr Negi has worked as a senior lecturer at Himachal Institute of Dental Sciences in India, where she was responsible for research, clinical examination of patients, identification and diagnosis of diseases of maxillofacial regions.
Dr Negi has also volunteered with NGOs during her professional studies, taking responsibility for preventing and controlling dental disease through organized community efforts. She has helped provide emergency and multidisciplinary comprehensive care in multiple environments; care for patients with special needs and also educating underprivileged children.
She is a passionate leader, working towards equity in healthcare. As a vivid traveller, Dr Negi loves exploring nature and enjoys the outdoors more than indoors.
Your network
Join the Scotland Regional Network Facebook group to find out about upcoming events, and to get in touch with your Regional Network Coordinator and other network members.
If the name used on your Facebook account differs from that on your award documents, please contact engage@cscuk.org.uk with your CSC Scholar reference and your name as it appears on Facebook so that your request to join the group can be authorised.
University Representatives
If you are interested in becoming a University Representative and assisting in building a strong network of Scholars and Fellows, please email the relevant Coordinator for your region.