Scotland
Regional Network Coordinators
Saratu Muazu Bello (West Scotland)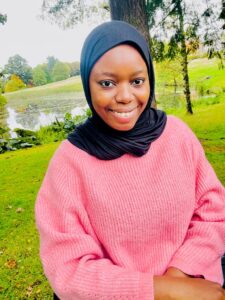 Saratu Muazu Bello is a Commonwealth Shared Scholar pursuing an MSc in Data Science for Business at the University of Stirling. As a humanitarian, she supports gender-based violence (GBV) awareness, education, and nutrition. Being valuable, providing practical support to others in situations where people are not well taken care of, and promoting equality are Saratu's core values and central to her identity. As she progresses in the humanitarian sector, Saratu hopes to conduct research and work into machine learning and AI technology to address developmental challenges.
One of her most outstanding career achievements to date was informing decision-makers in the justice system and policymakers in her hometown of Sokoto, Nigeria to enable them to make data-driven decisions in the fight to end sexual and gender-based violence. This played a significant role in the successful passing and adoption of the VAPP Bill (The Violence Against Persons Prohibition) in 2021.
If you like adventure, cats, and fiction then Saratu is your go-to person!
Stephen Gyasi Oduro (East Scotland)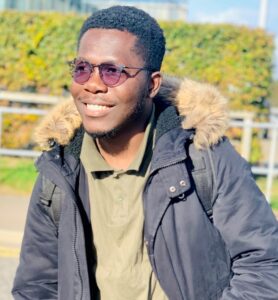 Stephen Gyasi Oduro is a Commonwealth Shared Scholar from Ghana currently pursuing his MSc in Environmental Science at the University of Aberdeen. Stephen completed his Bachelor's degree in Geography and Rural Developments at the Kwame Nkrumah University of Science and Technology (KNUST) in Kumasi, Ghana.
Stephen worked as a research assistant at the Bureau of Integrated Rural Development, College of Agriculture and Natural Resources at KNUST, before receiving the Commonwealth Shared Scholarship. In this role, he was exposed to corporate research and consultancy on issues pertaining to rural development. Additionally, he took on numerous leadership and decision-making responsibilities during his university years, which formed his worldview and illuminated his professional path.
Stephen is highly passionate about reaching SDGs 3, 6, and 15 because these topics interest him in his studies on environmental health and sustainable development. In his leisure, Stephen likes to travel, watch movies, learn new things, and spend quality time with loved ones.
Your network
Join the Scotland Regional Network Facebook group to find out about upcoming events, and to get in touch with your Regional Network Coordinator and other network members.
If the name used on your Facebook account differs from that on your award documents, please contact engage@cscuk.org.uk with your CSC reference and your name as it appears on Facebook so that your request to join the group can be authorised.
University Representatives
If you are interested in becoming a University Representative and assisting in building a strong network of Scholars and Fellows, please contact the relevant Coordinator for your region or email engage@cscuk.org.uk to find out more.