Over the past year the CSC's Regional Network Coordinators have organised a variety of activities to energise the networks and bring the Scholar community together in every region of the UK. This year's Regional Network Coordinators hosted over 30 events between them ranging from Scholar meet and greets, city tours, research workshops, picnics, competitions, and punting trips, not to mention the annual CSC vs Chevening football match to mark the Commonwealth Games 2022. Read on to discover some of the exciting events that have taken place up and down the UK's regions this year!
A spirit of friendly competition: celebrating the Commonwealth Games 2022
This year's Commonwealth Games saw athletes from across the Commonwealth convene in Birmingham to showcase their sporting talents and the shared values of the modern Commonwealth for twelve breath-taking days. To celebrate this occasion of sporting camaraderie, the CSC's Regional Network Coordinators organised several events in their regions inspired by the examples of athletes at the Games.
In Cambridge, Regional Network Coordinator Soniya Gupta held an inter-scholarship event at the Botanical Gardens where Commonwealth and Chevening Scholars came together for a series of tasks and activities themed around the Commonwealth Games. With a focus on health and wellbeing, this event was a chance for Scholars to reflect on how they could incorporate sport, and its lessons of resilience, focus, and self-care, into their daily lives.
Meanwhile in Oxford, Mohd Yaseen Malik organised a boat trip and picnic to commemorate the Commonwealth Games, with Scholars participating in a favourite graduation pastime, punting. Further north in East Scotland, Tatu Emmaculate, organised a visit to the coastal town of Stonehaven, where Scholars took part in warm-up walking tour through the scenic town centre, followed by a racing competition on the beach. After the competition, Scholars took some time out with a picnic in the grounds of Dunnottar Castle.
Last but by no means least, in Manchester, Muhammad Zakariya, Regional Network Coordinator for the North West region, organised a football match between Commonwealth and Chevening Scholars. Following a three-year hiatus, this marked a welcome return for the annual CSC vs Chevening football fixture, with Commonwealth Scholar team eventually winning 4-1. There was a great show of support at the event, with over 50 Scholars from different areas of the UK travelling up to cheer on the teams during a hard-fought but friendly display that encapsulated the spirit of the Commonwealth Games.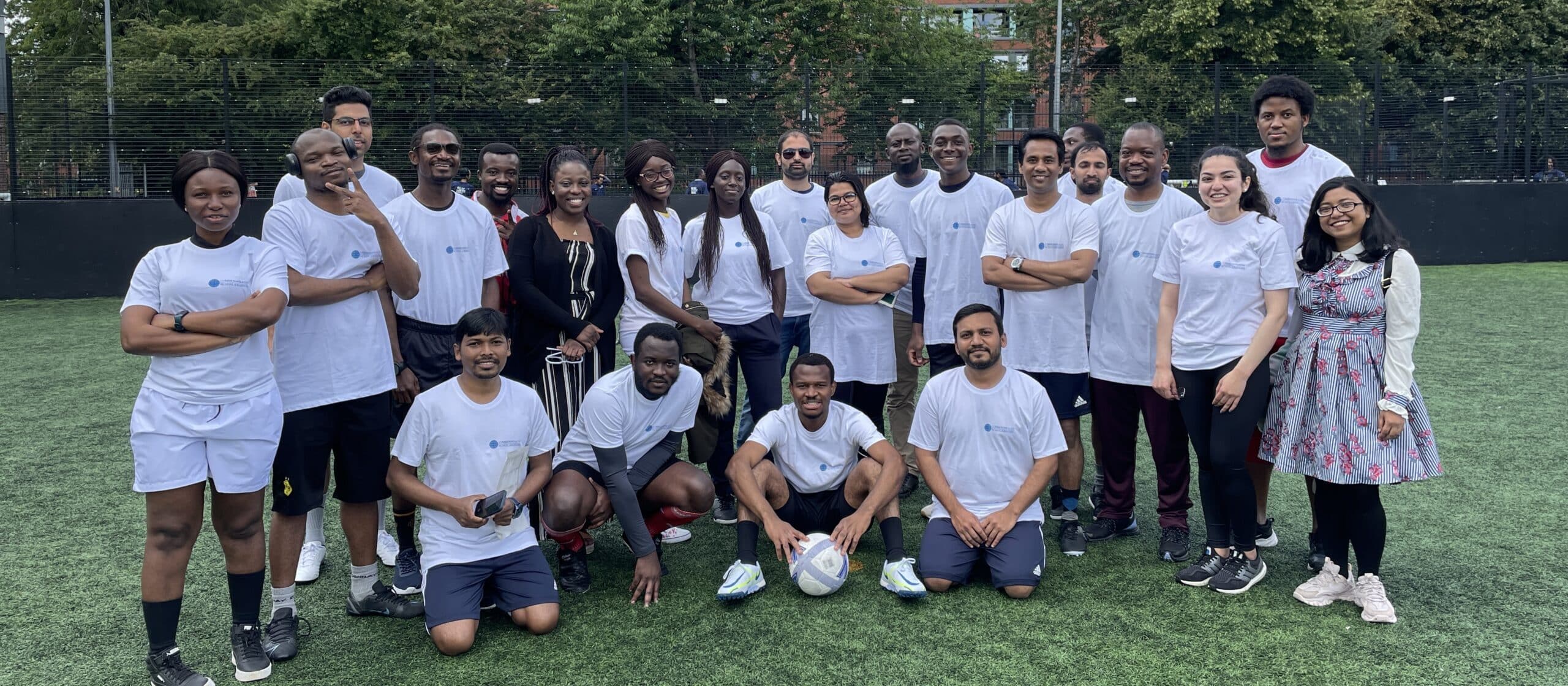 A round up of other regional events in 2022

Earlier this year, Regional Network Coordinators, Joana Kolo-Manma and Olamide Eso took advantage of Scholars being in London for the CSC Connect and Collaborate Event to organise a successful London tour event for Scholars from their regions.
Elsewhere, Regional Network Coordinators have carried out research focused workshops featuring Commonwealth Alumni and academic guest speakers. Jimmy Asiku, Regional Network Coordinator of Wales and Northern Ireland, hosted a debating event on Covid-19 prevention, whilst Victoria Olaleye, West Scotland Regional Network Coordinator, organised a research publication workshop with invited speakers from her university who shared tips on how to identify journal publications for research papers and offered advice on ethical publication best practice.
The CSC would like to thank all the 2021 Regional Network Coordinators and University Representatives for hosting a broad variety of events this year to support the networking and learning opportunities of Scholars in their regions.
Apply to be a Regional Network Coordinator in 2022!
Do you want to gain events experience whilst supporting Scholars in your region? If you're looking for a new challenge, then why not apply to be a Regional Network Coordinator in 2022 and contribute to your Scholar community!
The applications for new Regional Network Coordinators will open on Friday 23 September 2022. Look out for more information about eligibility and how to apply from the CSC Engagement Team.