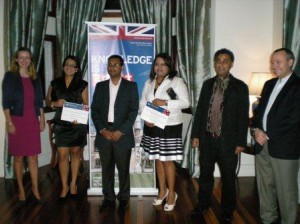 An event on 5 September at the British High Commission in Mauritius brought together alumni and new scholars from both the Commonwealth Scholarships and Chevening Scholarships schemes.
HE Nick Leake hosted a pre-departure for the new scholars about to depart for their courses in the UK. The event provided a valuable networking opportunity, with scholars being able to meet alumni from a range of professions.
Amongst the Commonwealth Scholarships alumni attending was Hon Dr Rajesh Jeetah (2002 Commonwealth Fellow, Civil and Environmental Engineering, University of Cambridge), who is currently Minister for Tertiary Education, Science, Research and Technology.
The alumni were able to share their experiences for studying in the UK with the new scholars, as well as discuss plans for future events for the UKCAC- Mauritius Chapter.