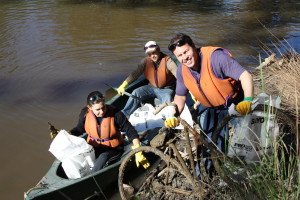 Josh Frydenberg (1996 Commonwealth Scholar, MPhil International Relations, University of Oxford) was elected as a Liberal MP for Kooyong in the state of Victoria,
Australia, in 2010.
At undergraduate level, Josh studied Law and Economics at Monash University. Josh became committed to community activities at Monash; he worked on community radio and sports projects that helped children and adults with a range of disabilities.
Josh was keen to pursue a postgraduate course in International Relations, and it seemed a natural step to pursue this overseas. 'The scholarship provided me with the intellectual rigour of the MPhil and the experience of studying overseas and the international perspective gained as a result.'
After Oxford, Josh was admitted as a barrister and solicitor of the Supreme Court of Victoria. He then worked in Canberra as a Ministerial Adviser from 1999-2004, as Senior Adviser to the then Foreign Minister Alexander Downer and Senior Adviser to the Prime Minister, John Howard. 'These were exceptionally challenging roles but also hugely rewarding.'
Josh later worked at Deutsche Bank as a Director of Global Banking, and took leave to complete a Masters of Public Administration at Harvard University's Kennedy School of Government. His experience in Canberra had given him an insight into the impact that MPs can have. 'My prior experience in Canberra provided a window into the role of a member of parliament and the difference they can make to our community.'
Josh's own family background has given him an understanding of the migrant experience in Australia. His grandparents came to Australia in the 1930s, but all his great-grandparents and many relatives perished in the Holocaust. He is now an MP representing a diverse constituency where more than one in five speak a language other than English at home; he believes passionately in equality of opportunity, for all Australians, and in the importance of building strong, cohesive communities and families in shaping society.
As well as his commitment to fostering stronger communities, Josh's postgraduate degrees have also given him an interest in wider policy issues. 'I have a deep interest in public policy – economic and foreign policy in particular – and believe Australia faces many significant challenges going forward. I want to play my part in helping my country and my local community respond to these challenges in the most effective way possible.'