Nelly Shella Tchaptcheut Yonga, 2014 Commonwealth Professional Fellow and Coordinator of the Rural Women Development Center (RUWDEC) in Buea, Cameroon, reports on her activities after her fellowship.
It's been 3 months since my return from the UK and it already feels like a year. My Professional Fellowship at the National Youth Agency enabled me to explore the opportunities and challenges of youth work in the UK, and helped me understand the importance of youth work professionalisation, the need to engage partners at all levels when implementing youth programmes, and the importance of having a good structure and a solid team.
Since my return, I have been involved in a series of activities ranging from restructuring my organisation's youth programmes to community projects geared towards enhancing sustainable development and poverty alleviation through providing and livelihood skills to grassroots communities.
Youth programming: D'Girls Initiative
D'Girls Initiative is a youth leadership programme which seeks primarily to strengthen the capacity of young people in Cameroon through mentorship and training, with a particular focus on young girls. This programme was conceived with the vision to inspire self-belief, build self-confidence, and equip girls with skills to help them meet their full potential and contribute to their personal and community growth.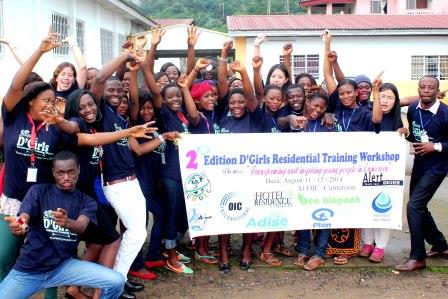 At the start of this initiative, particular focus was centred on engaging young people in discussions about leadership, sexual health, financial literacy, home economics, and career development. The programme also focuses on encouraging youth participation in community service through social action projects, volunteering, and ministerial visits to build patriotism and love for our country among youths.
Given its rich content, after my fellowship I also saw the need to support young people to acquire transferable skills to close the gap between our educational system and the job market.
Community projects: scaling up rural solar electrification of communities for sustainable development
Earlier this year, the Rural Women Development Center launched the second phase of its rural solar electrification and livelihood improvement project. This project's objective is to enhance sustainable development and poverty alleviation in vulnerable grassroots communities in the Manyu division of southwestern Cameroon, through solar electrification and mitigating climate change by promoting the planting of non-timber forest products. The project aims to provide 300 households with solar panel systems and lanterns in Eshobi and Eyang Ntui, as well as establishing demonstration plots for cassava, plantain, bush mango (5000 seedlings) and Eru (2500 seedlings) within a period of two years.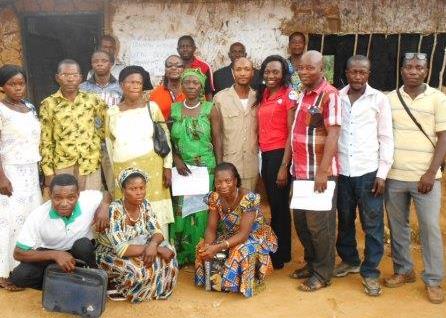 In 2012, RUWDEC inaugurated the first phase in Munyange Trouble, which benefited 98 households and over 500 people. Solar panels introduced a cost-effective and environmental-friendly source of energy, while livelihood skills training on domesticating livestock, non-timber forest products, and improved farming tools provided an alternative source of income generation.
This year, with a grant of USD 45,000 from UNDP's GEF Small Grants Programme and the technical and financial support of the Indian government, the project's second phase targets two communities in the Manyu division which, like nearly 90% of rural communities in Cameroon, have no access to electricity.
Training: Indian government scholarships for women
It is no longer a question whether women can play a productive role at the heart of sustainable development, as their traditionally pre-defined roles put them at the heart of development.
Partnering with Barefoot College in Tilonia, India, under the sponsorship of the Indian government, RUWDEC has been able to prove time and again that women can productively support development projects in their community. So far, through Barefoot College's rural solar village module, we have been able to train four women as grandma solar engineers, who are now playing an important role in ensuring the sustainability of these projects in their communities.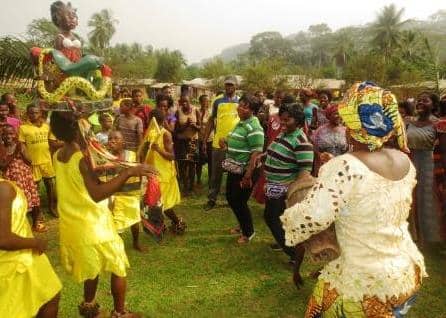 This March, we celebrated the return of two women after six months of intensive training at Barefoot College. Received as royalty, their triumphant entry was marked by a crowd of men, women and children running from one end to another hoping to catch a glimpse of and even touch the women. This was accompanied by cries of joy, singing and dancing. These two women currently have a huge obligation towards their communities who placed their trust in them by choosing them to represent their community.
Way forward
For a way forward, while we are working to ensure that all components of the project are executed, our main priority is to mobilise more financial resources and partnerships to meet our targets. This, of course, is our major challenge.