On 3 February 2023, a Welcome Home Event was held for recently returned 2021 Commonwealth Scholarship recipients from Kenya. The event was delivered by the British Council, on behalf of the Commonwealth Scholarship Commission in the UK (CSC).
The event provided an opportunity for recently returned Scholars to make valuable connections with fellow Commonwealth Alumni and receive guidance and support towards achieving their professional and developmental goals.
Achieving sustainable development in Kenya
The event opened with a welcome address delivered by Tom Porter, Country Director, British Council. In his address, he encouraged recently returned Scholars to use the knowledge and skills acquired during their Scholarship to benefit their local communities and achieve development impact in Kenya.
Paul Mwangi, Director for International Education and Partnerships at the Ministry of Education thanked the British Council and CSC for their continued support delivering Commonwealth Scholarships and Fellowships. Paul advised recently returned Scholars to take advantage of opportunities that will contribute to their professional development and apply their knowledge and skills to support efforts in development and nation building.
Commonwealth Alumnus Dr Erick K'Omolo, President of the Commonwealth Scholars Alumni Association of Kenya (CSAAK) (2009 Shared Scholar) discussed the impact and influence of Commonwealth Alumni within society in both Kenya and globally. Dr Komolo encouraged scholars to be proactive and encouraged them to collaborate to create programmes and projects that support the developmental impact agenda.
Developing an entrepreneurial mindset
Commonwealth Alumnus Dr William Murithi (2012 Shared Schola) led an insightful workshop on, 'Developing an entrepreneurial mindset to take advantage of local and global opportunities'.
In this workshop, attendees were encouraged to expand their horizons beyond usual career routes and to consider entrepreneurship. The workshop explored the skills and competencies required for entrepreneurship and provided an opportunity for interactive breakout groups where entrepreneurial skills could be practiced including developing creative and innovative concepts, negotiation, and networking.
Exploring networking and competencies for the job market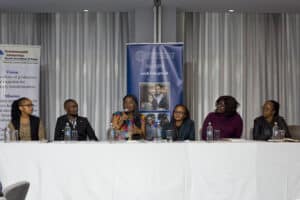 This was followed by a moderated panel discussion on the topic, 'Developing the right networks and competencies for the job market'.
Panellists included: Dr Rose Nzyoka, Country Director, Palladium Group Kenya Country Office and Co-Chair, Global Digital Health Network (2002 Scholar); Sarah Amoit Okimaru, Advocate of the High Court of Kenya (2012 Splite site Scholar); Jacob Koome, Mentor, Motivational Speaker and Author (2020 Split-site Scholar); Saumu Ismail, Business Analyst, Kenya Climate Innovation Centre (KCIC); and Ayuma Michelle, Founder and Storytelling Coach, Leading through Story (LetS).
The panellists shared their backgrounds, experiences, and career development journeys, highlighting the skills and competencies required to succeed. They went on to share the importance of networking to build competencies for career development and the skills necessary to thrive in a work environment. The discussion included examples of how recently returned Scholars could obtain opportunities to apply their skills.
Following the panel discussion, there was a Q&A and networking session. The event closed with final remarks from Dr Komolo who encouraged attendees to join the CSAAK.