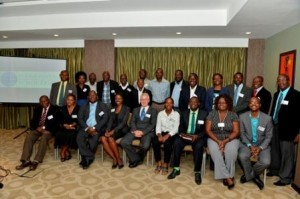 Zambian alumni recently met to take forward plans for the formation of a local association. The alumni felt strongly that they should have the opportunity to meet and network with other Commonwealth Scholars and Fellows once they had returned to Zambia.
From the discussions during the day-long meeting at the Radisson Blu Hotel, Lusaka on 7 March, the alumni association was viewed as 'a way to give something back'. The association would also give the alumni a forum through which they could network, share knowledge, mentor and support other Commonwealth Scholars and Fellows. There was also a special mention of support for distance learning scholars, who do not tend to visit the UK during their scholarship. These scholars would benefit in particular from peer support from alumni to help them remain motivated during their distance learning courses, which could involve mentoring and widening access to materials such as journals.
The meeting closed with a key note from 2009 Commonwealth Distance Learning Scholar Lawrence Mwenge (MSc Public Health, London School of Hygiene and Tropical Medicine), who highlighted his journey – from being awarded his Commonwealth Scholarship, to the professional benefits he had amassed since receiving his Master's qualification. Lawrence is also one of three volunteers taking forward the planning for a local association.