Clean Energy, Air and Oceans
In 2022, Commonwealth Alumni were invited to design and deliver a Clean Energy, Air and Oceans themed community-focused activity to raise awareness around preserving marine ecosystems, increasing the use of renewable energies, and improving air quality as key factors to mitigate and adapt to climate change.
One of the most significant outcomes of the 26th UN Climate Change Conference of the Parties (COP26) was the Glasgow Climate Pact, which sought agreement from 197 participating countries to reduce reliance on fossil fuels. During World Oceans Day (5th November), the UK government additionally announced a significant amount of funding to support ocean projects, highlighting the importance of oceans in regulating the climate and the potential power of the oceans to help us tackle climate change – if harnessed sustainably.
In line with the Clean Energy, Air and Oceans theme, Commonwealth Alumni were invited to deliver community awareness activities to support the aims of UN Sustainable Development Goal (SDG) 14: 'Life Below Water' and SDG 7: 'Affordable and Clean Energy', both of which link to the UK Government's 'Clean Green Initiative', and the Commonwealth Blue Charter.
Clean Energy, Air and Oceans ACEF activities
You can read about the Clean Energy, Air and Oceans themed activities delivered by Commonwealth Alumni below – as well as the impact these activities had on their chosen community.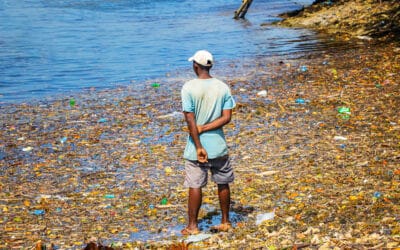 Marine litter is a major challenge across Kenya's vast and varied coastlines, with plastics the largest and most harmful element, accounting for at least 85% of total marine waste. This and other waste is choking the oceans, inflicting permanent harm on marine...