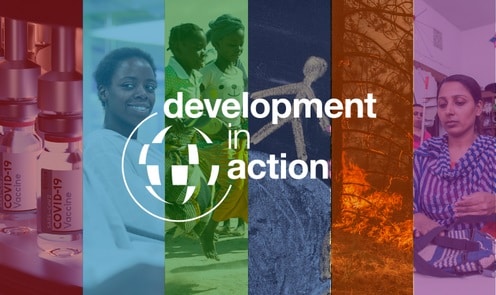 Development in Action Webinar SeriesDeveloping a spaceborne atmospheric CO2 monitoring instrument
Developing a spaceborne atmospheric CO2 monitoring instrument
In this webinar, Commonwealth Alumnus Dr David Ikpaya will discuss his research designing and building a spaceborne atmospheric carbon-dioxide monitoring instrument known as SHACS  (Spatial Heterodyne Atmospheric Carbon-Dioxide Spectrometer), which aims to mitigate the effects of climate change.
Dr Ikpaya will discuss how SHACS provides a cost-effective and affordable means of monitoring atmospheric CO2 levels globally and how the SHACS instrument can support policy-makers in ensuring they meet their targets set out to reduce carbon emissions in response to the global climate crisis.
Dr Ikpaya is the winner of the 2022 CSC Research Impact Awards topical prize for his clean energy related-research.
This webinar will address the CSC development theme, Science and technology for development.
The webinar will last for approximately one hour, including a Q&A session.
The CSC's Development in Action webinar series provides an opportunity for Commonwealth Scholars and Alumni to present on their work and contribution to development across a range of contemporary global challenges and provide insight into ongoing research and action.
Open to all Commonwealth Scholars and Alumni, the monthly webinars will address one of the CSC's six development themes and provide an opportunity for attendees to engage in real-time Q&A discussion on the topic presented.
You can watch previous webinars on the CSC's YouTube channel.
Dr David Ikpaya is the Deputy Director at the National Space Research and Development Agency (NASRDA), Nigeria. He has vast experience as a Satellite Engineer working in the space industry, specialising in spacecraft payload systems for earth observations and remote sensing instruments.
Dr David Ikpaya is a 2017 Commonwealth Rutherford Fellow from Nigeria. He completed his Post Doc. in Remote Sensing Instrumentation at the University of Surrey.