In 2020-21 the focus of our Time Limited Programme was on Girls' Education. This was in support of the UK government's ambitious initiative to get 40 million more girls in low-and middle-income countries into primary and secondary school in developing countries by 2026 and improve learning levels, so girls can achieve their full potential. This programme directly supported UN Sustainable Development Goal 4 and aligned with our own objectives to ensure gender parity in education.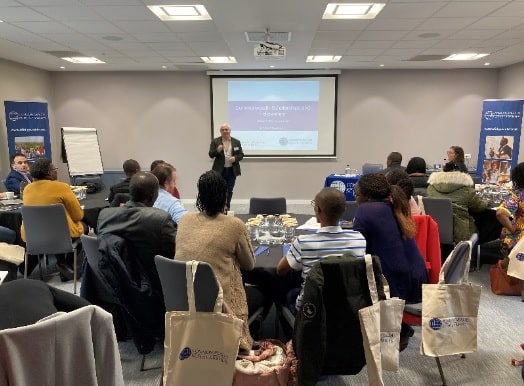 As part of this TLP, a Professional Fellowship programme was launched on the topic of Girls' Education. This was the first time a Professional Fellowship programme welcomed all Fellows to the UK at one time to explore one shared topic with the aim of encouraging relationship building and collaboration. At the beginning of the programme, a two-day Welcome Event was held at the University of Birmingham, bringing all Fellows together for the first time. Throughout the three-month programme, each of the five Host organisations welcomed the cohort to their part of the UK to showcase their work and allow Fellows and Hosts to continue building relationships and establishing possible future collaborations in the area of Girls' Education.
Fellows arrived in 2022, after some delays caused by the COVID-19 pandemic, and joined the following host organisations:
Windle Trust International (Oxford)
Cardiff University's Phoenix Project (Cardiff)
Commonwealth Telecommunications Organisation (London)
Knowledge For Change (Bolton)
Lifegate Outreach Centre (Walsall)
For more information on previous Professional Fellowship Hosts please visit our Host Organisations information page.
For details of the current Professional Fellowship programme, including timelines for application, please visit our Professional Fellowships page.