Climate Action
In 2021, Commonwealth Alumni were invited to design and deliver a climate action themed community-focused activity to raise awareness of the impact of climate change on their chosen community and share information on adaptation and mitigation measures which can be implemented.
Between 31 October – 13 November 2021, the UK hosted the 26th UN Climate Change Conference of the Parties (COP26). The summit brought parties together from all over the world to accelerate action towards the goals of the Paris Agreement and the UN Framework Convention on Climate Change.
Coinciding with COP26, the CSC delivered a range of climate-related activities to showcase the many ways in which Commonwealth Scholars and Alumni are working to tackle the worst effects of climate change. Alumni were also invited to design and deliver a climate action themed community focused ACEF activity. 
Climate action ACEF activities
You can read about the climate action themed ACEF activities delivered by Commonwealth Alumni below – as well as the impact these activities had on their chosen community.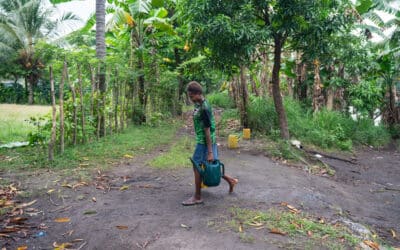 Between 24-25 February, Commonwealth Alumnus Bensolo Ken delivered awareness sessions on climate change to two communities in the Fayantina Local Level Government (LLG) of Henganofi District, Eastern Highlands Province in Papua New Guinea. Being from the area, Bensolo's activity shared information on locally experienced climate change effects and practical adaptation and mitigation measures. Bensolo is currently working with the United Nations Development Programme as Deputy Team Leader on the project Building Resilience to Climate Change.